Raymond H. Fogler Library Magazine
The Raymond H. Fogler Library Magazine covers stories, news, and events from Fogler Library at the University of Maine. For more information about the magazine or to suggest a story, please contact Christopher Clark.
Stories in the 2020 Issue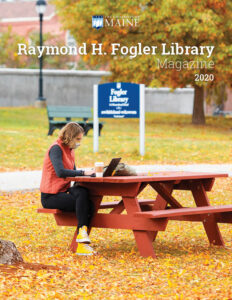 Behind the Scenes
Library supports remote learning while preparing to reopen. Page 4.
How Quickly Things Moved
University Archivist seeks to document one of the most dynamic living histories of our time. Page 5.
Sewall Aerial Photographs
A look at some of the images and uses of the Sewall Aerial photos. Page 9.
Evidence in Practice
Interlibrary Loan supports healthcare professionals around the world. Page 10.
Misinformation Challenge
Participants from around the world test themselves in the COVID-19 Misinformation Challenge. Page 16.
---
Stories in the 2019 Issue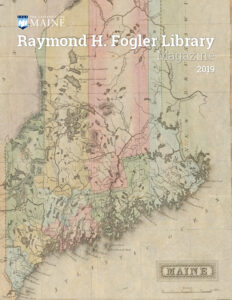 Volunteer Spotlight
A retired UMaine employee helps process archival material. Page 4.
The View from the Sky
Sewall Company donates one million aerial photos to Fogler. Page 6.
Finding the Right Direction
University of Maine at Machias library builds partnerships both on campus and across the state. Page 8.
Around the Globe
Interlibrary Loan department provides resources for patrons around the world. Page 11.
Keeping America Informed
Libraries help make government publications accessible across the United States. Page 12.
The Missing Volumes
Professor locates missing National Collegiate Hispanic Honor Society journals at Fogler Library. Page 17.
---
Stories in the 2018 Issue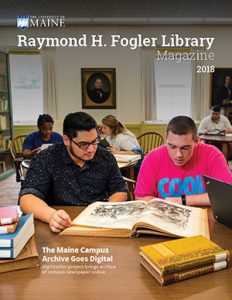 Genetic Discoveries
A nearly discarded collection in New York becomes a critical resource for genetic researchers. Page 4.
A Recipe for Business
Entrepreneur uses library resources to help start business. Page 7.
News of the Day
Special Collections digitizes the Maine Campus newspaper. Page 8.
Mystery in the Archives
A historical mystery brings together two scientists, a historian and the University Archivist. Page 14
Partnering for Knowledge
Communication and Journalism Department partners with Fogler Library to embed information literacy in curriculum. Page 16.
---
Stories in the 2017 Issue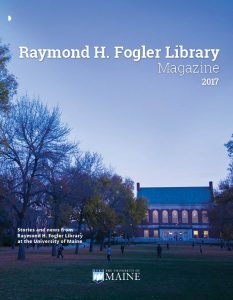 The Spirit of the League
The League of Women Voters of Maine collection details a century of civic commitment. Page 2.
Industry Insight
Entrepreneurs, small businesses receive free support from library. Page 8.
Beyond the Library
Library collaborations and services extend beyond UMaine. Page 11.
The Labor of History
Labor archives help researchers tell the story of Maine's workers. Page 12.
---
Stories in the 2016 Issue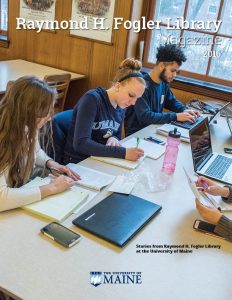 Listening to Local History
A UMaine student brings 1940s radio to the digital age. Page 2.
Funding the Pursuit
Money might not grow on trees, but grant funding may be within reach for graduate students. Page 6.
Bringing in the Dogs
Therapy dog visits offer enjoyment for students, handlers. Page 9.
A Student First
Student employee finds balance between work and class. Page 12
The Wild West of Open Access Publishing
A UMaine librarian guides graduate students in the world of open access publishing. Page 14.