Photocopy Self-Service
Fogler Library has seven (7) photocopiers available for public use.
Paying for Photocopies
MaineCard (Black Bear Bucks) and CopyMaineCards  $0.08. per copy
Note: Computer printing funds allocated to students and staff at the beginning of each semester cannot be used on Library photocopiers as this funding comes from Information Technologies.
Coins  $0.10 per copy.
Change machines are located in the Reserve Reading Room (level 1) and Presidents Room (level 2). These accept one dollar bills and dispense 10 dimes.
Replenishing Cards or Purchasing a CopyMaineCard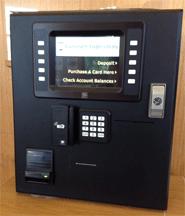 Value Transfer Station (VTS). Located on the first floor, near the Reserve Desk in the Reserve Reading Room, the VTS allows you to add Black Bear Bucks to your MaineCard as well as purchase and re-load purchased CopyMaineCards. Simply follow on-screen instructions.
Those who do not have MaineCards may purchase a CopyMaineCard for $1.00 ($0.50 for the card and $0.50 of photocopy credit). Note: The machine dispenses blank CopyMaineCards which must be swiped to load $0.50 worth of copies. The VTS will provide a receipt of your transaction, if you select that option. For assistance, visit the Circulation Desk.
Locating Photocopiers
For illustrated floor maps, visit the Building Map pages by floor.
| | | | |
| --- | --- | --- | --- |
| Floor | Area | Located Near | Qty |
| Level 1 | Reserve Reading Room | Circulation/Reserve Desk | 2 |
| | Bound Periodical Stacks | Center Elevator | 1 |
| Level 1b | Bound Periodical Stacks | Center Elevator | 1 |
| Level 2 | President's Room | | 1 |
| | Bound Periodical Stacks | Center Elevator | 1 |
| Level 3 | Book Stacks | Special Collections | 1 |
Making Photocopies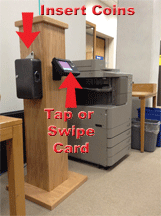 MaineCard/Photocopy card holders:  Adjacent to each photocopier is a pedestal with a control screen. Touch the screen or swipe your card to begin. Follow on-screen instructions.
Coins: Place document on the copier glass. Insert one dime at a time into the cash box attached to the adjacent pedestal. Press copy button on the copier. Repeat this process until complete. DO NOT insert multiple coins at once.
Questions/Troubleshooting
MaineCards. Contact MaineCard Service Center at 207.581.2273.
Photocopiers. Go to Circulation Desk or call 207.581.1666.