ERM: Closing Out E-journals
Purpose: to close out e-journal subscriptions by altering existing bib records, attached order records .  Creating attached holdings record for limited holding access may be required.
If working from a review file:
Open a Sierra session in CREATE LISTS mode
Scroll to the Orono segment of the list (about file number 129; note the prefix 'ORO'
Open review file
Highlight title line and select "Edit" icon in top bar to open
Close out order record:
Click Summary icon
Select the attached order record
Select the "Status" field
Change the f in the status field to a z
Add internal note as circumstances require (eg. "Title now available in JStor)
Close order record; save as prompted.
Create holdings records indicating limited online access to e-journals:
Click on Summary icon
Choose Checking from the View dropdown menu
Click "Attach New Checkin' button
Respond to subsequent dialog box prompts

frequency, click next
Label Type, click Next
Edit Data, click Next
Copies, leave at the default (1)
Location (Usually obper)
RLOC, click Next
Vendor, click Next
Identify, click Next
Check note, click Next
Lib. has, click Next
Ven. ADDR, click Next
Call #, click Next
In the "Create Card" dialog box, click Cancel
Save
Proceed to the "Adding and Updating Holdings" section below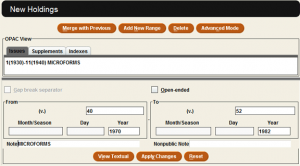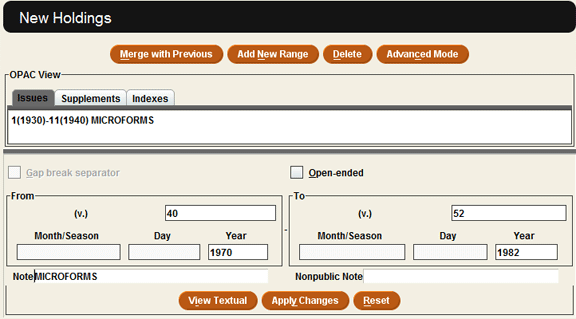 Click Holdings in the left menu bar
Click on Add New Range
If the "Create Caption" dialog box appears, select the appropriate options for Enumeration and Chronology.
Uncheck "Display Caption" for levels of enumeration and chronology for a cleaner appearance on the public display
Click the Submit button.
In the "New Holdings" display, enter the volume/number(year) in the "From" and "To" fields
In the "Note" field enter the location in all caps (see examples below)
Click Apply Changes
Indicate in the bib record that online access to e-journal is limited:
Select Edit icon to return to the full bib record
Scroll cursor down to 856 41 field
At the end of the subfield z type: vol# [Year]-vol#[Year]
Click Save icon
Click Close item to return to review list of titles
Contact: um.library.technical.services@maine.edu
Return to Technical Services Table of Contents.