Orders: Invoices via EDI
Purpose: To make electronic payment of invoices and at the same time add payment lines to appropriate order records in Millennium.  EDI technology facilitate importing invoices through the Millennium Acquisitions module.
Retrieve invoice from Ebsco

Log in to EBSCOnet
Select the "My order" tab
On far right of resulting new bar menu select "EDI".  See screen shot above
Select invoices.  Pairs of files will be displayed in a list, one in txt format and one in invoice format.
Click on text version to check content.  Note the following information in screenshot below

 Invoice number
Invoice date
# of line items
Amount

Close file after review
Now open invoice version of file pair
Dialog box will popup.  Select Save to desktop

NOTE: Invoice available on EBSCOnet for 90 days. If missed can make special request. Need to monitor if expecting an invoice as no auto-email sent out.  Usually rep will give a heads up if expecting a large invoice such as the annual renewal or a large e-journal package.
Import invoice to Millennium
 Switch to Millennium Acquisitions module interface
 Select import invoices icon
Click "get shipment"
 In resulting dialog box select radio button for serial invoice
Browse to desktop to highlight the file
Click open
Imported invoice will appear in Acq interface as part of list under the accept/reject tab
 Highlight the file you want to review.  See illustration, below.
NOTE: If any field is missing, boxes will be highlighted in red and "Skip" will appear in the action box on far right.
To see detailed payment history information click 'key" icon in "Index" column.   Spot check payment history against incoming payment price to be sure the amount looks appropriate.
To address skip lines:

Double click the line with a blank title.
Referring to print version of invoice, key in title and then open attached order record.  You may need to try more than one "cell" (eg. record number) to invoke a dialog box to view the individual order record needed to resolve the "skip" line.
From inside the resulting order record click the "Use order record" button and missing data will now appear in the line item display on the import invoices spreadhseet.  Action will change to "Accept" and highlighting will be gone.
Recommend writing down the order record# on your print copy.

When everything looks good the invoice is ready to process. FIRST notify the LAI who handles daily posting as the volume will add as much 10-15 minutes to the posting process for that day.  (

Note:

As of FY2009 it is no longer necessary to break up the posting of the 1500+ line payments as both the Millennium and PeopleSoft systems can handle the volume).
After posting is completed, the payment lines will appear in the appropriate individual order records.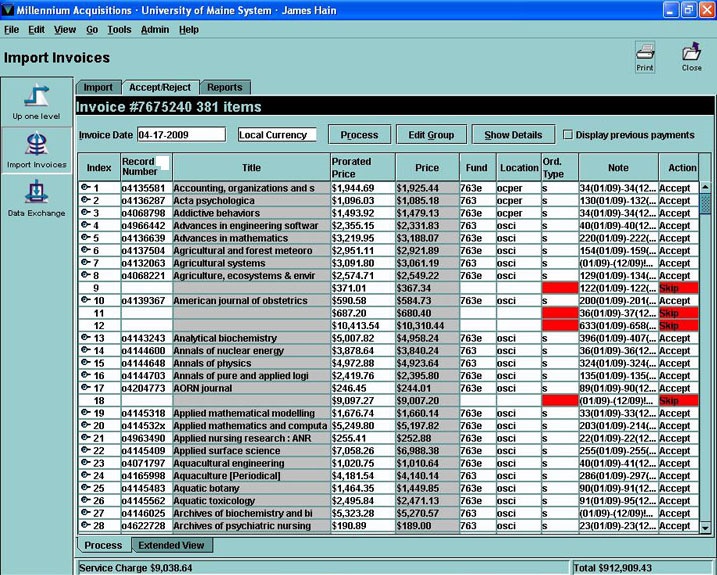 Contact: um.library.technical.services@maine.edu
Return to Technical Services Table of Contents.