ERM: URL Checker Using Millennium Tool
Purpose: To regularly review Orono imported records captured in a review file for valid 856 field links.
Create Review File
Parameters for the review file of about 49,000+ bib records named ORO: URL Checker Deluxe are as follows:
Mark Tag 856 field has ://
049 field does not have MEUD (to eliminate govdocs)
Branch = oro OR Branch = owebb (use "group" button option to add parentheses)
001 field does not have ss (excludes Serials Solutions records)
Branch ALL fields don't have LAW
Branch ALL fields don't have LWEBB
856 fields ALL fields don't have Shoemaker (excludes the early American imprints microform, all with same database link)
856 fields ALL fields don't have docutek (reserve records exclude)
856 fields ALL fields don't have catdir (excludes the LC table of contents records)
Update Review File
Highlight file in Create Lists Mode
Click the Search button
In resulting dialogue box say "yes" to over-write existing file
Update file name with current date
At bottom of screen select "Use existing search"
Select file again and let run
URL Checker: Interactive Mode
Select the URL Checker Icon from the Millennium Cataloging Mode menu.  Display will default to "Automatic Report" which is for all records.
To create an interactive URL checker report, click on Tools>Create Interactive URL Checker Report
Select radio button for "Specify another range"
Under "Range" pull down menu select "Review"
From resulting "Review" pull down menu select designated review file for ORO URL Checker, Click on OK.  The routine may take between 1-2 hours to run.  It is possible to run multiple Sierra sessions concurrently; if there are additional Sierra tasks outside of the URL Checker to be completed, simply open an additional session while leaving the URL Checker running in the background.
Once the Interactive Report is complete, capture a screenshot, email to Head, Technical Services.  Retain copy for use as reference while working through results.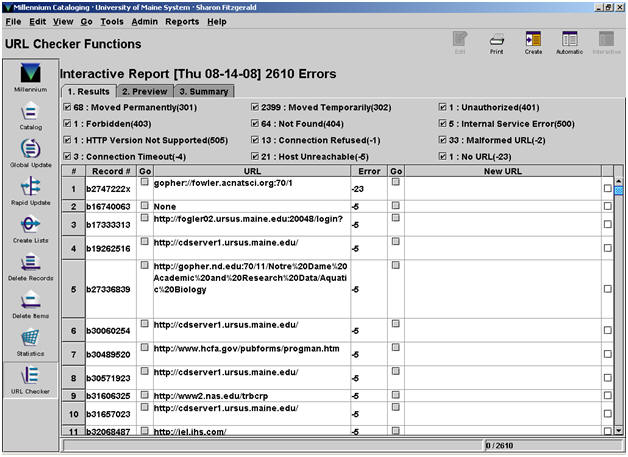 Address Results Screen Categories
As shown above, the results display defaults to all category boxes being checked off.  For ease of navigating the results list, uncheck all but the category you are working on at any given time.  Complete corrections to that category before moving to the next one.
Ignore (no action taken)
Moved Temporarily
Connection Times Out
Connection Refused
First Priority
MovedPermanently
NotFound
Malformed
Second Priority
Forbidden
Service Unavailable
No URL
HTTP Version Not Supported
Unauthorized
Internal Service Error
Host Unreachable
Action Options
Highlight a record in the results list.  Select the edit button to view record, click on Edit to enter bib record and complete the following:
Find correct URL and update
If no correct URL available, delete 856 (unless GovDoc; update 856 tag to 949)
If no correct URL available and the record is shared, change 856 tag to 949 in order to suppress link
If bib record is for online version only and 856 no longer functioning, suppress entire record
Keep statistics of your updates
Always test a corrected record by going to View–> Public Display and trying the new link out.
The URL Checker process will take more than one day to complete; when returning to the process on second or subsequent days, you will need to:
Navigate back to the URL Checker selection in the Cataloging Sierra module
The system will default to the Automatic URL Checker Report
Click on View>Interactive URL Checker Report
Contact: um.library.technical.services@maine.edu
Return to Technical Services Table of Contents.