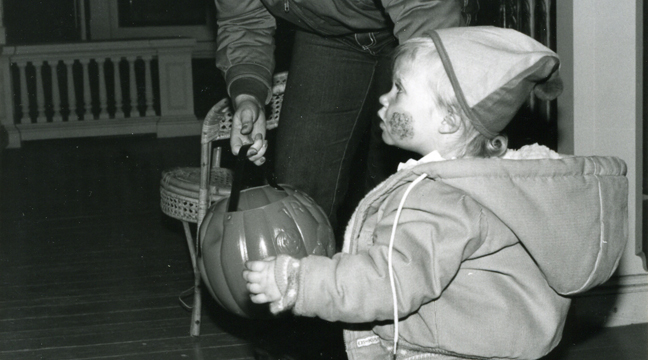 Community Archives Ask, "What's Your COVID-19 Halloween Story?"
Several photographs from the Halloween Holiday Traditions Collection are featured in a new, short video created by the Maine Community Archives Collaborative, "What's Your COVID-19 Halloween Story?"  Libraries, archives, and museums across Maine have shared some fun materials related to Halloween, and they want to hear from you about your Halloween experience this year during COVID-19.  Take a picture, show off this year's Halloween costumes, sketch a Halloween scene, or write and submit your stories.   Find your local COVID-19 collecting project at https://mainestatelibrary.omeka.net/.
The Halloween Holiday Traditions Collection was gathered by the Northeast Archives of Folklore and Oral History in 1985.  It includes eighty-two individual interviews with tapes and transcripts and note cards containing citations of Halloween references in late 19th and early 20th century Maine newspapers. Interviewee ages range from 8 to 88 years old. Topics discussed include costumes; trick or treating; school and parties; Halloween treats; Finnish Easter; pranks; pumpkins/jack o' lanterns; Miscellaneous manuscript materials generated by the Halloween Project include letter describing Halloween in Scotland, interview questions, newspaper clippings and various items having to do with Halloween.  Access these materials in the library's ArchivesSpace database.
For more information, contact Special Collections at 207.581.1686 or um.library.spc@maine.edu.