Orders: EBSCO Renewals Project
Purpose: Primarily to check the EBSCO renewal to verify that our renewal order contains only the titles we want to renew and that the information for each title is correct.   This also provides an opportunity to review our order records in URSUS and address any discrepancies we encounter.  
Time Frame:
Start: We receive our EBSCO renewal and begin work on it in early June.
Finish: Checking the renewal should be completed by late September.
Procedures:
A. Setup
B. EBSCO Records
C. URSUS Records
D. Comparing the Records
E. Recording Problems
F. LAI Review of Student Pass
G. Receiving the EDI files
Ursus: Log on to Millennium Serials using the appropriate username and password pairs.  Search by ILS/order record number which appears at bottom of renewal entry.
Internet browser: Open your preferred web browser  (Firefox or Chrome) and connect to EBSCONet.
URL: http://www.ebsconet.com   Username and password are required.
A. Looking up information on EBSCONet:
Once you log onto EBSCONet, select "Renewals"; from the Search drop down menu, select All Accounts; from the For drop down menu, select Title Name – do not enter anything in the search box; from the And drop down menu, select Order Start Date – do not enter anything in the search box.  Click on Search – EBSCONet will now show a listing of all titles to be renewed.  In the far left hand column is the 'Renew' field – this drop down menu has 3 choices Yes, No, Hold; all responses default to Yes.  As you work down through the renewal list, select the appropriate response in this column.  Click on the name of the publication to see the full EBSCO record.
On the EBSCONet renewal title list, each title will appear showing the projected price for the upcoming renewal year, start date, subscriber code, and ILS (Sierra order number).  If additional formats are available for the title there will be a link titled: Alternative Format Available – if you wish to change the format at the time of renewal, click on this link and select a different format.  Once you make your selection you see a confirmation box noting price and perhaps additional information such as Tier level.  If you are unsure of responses, mark the title to Hold in the renewal column.  Once you have obtained full information, come back to this title, update as appropriate, and change the renewal column to Yes.  Click on Save Changes button before moving on to next title.  If you attempt to leave screen before invoking Save Changes, EBSCONet will prompt you to save or discard your changes.
B. EBSCO Records (tagged sample entry link)
It is very important to become familiar with the format of each entry and the information provided.  You will be comparing this information with fields in our attached records on URSUS.  Untagged sample entry follows:
This information should already be familiar to you, but the relevant information will be reviewed in the screenshots, below.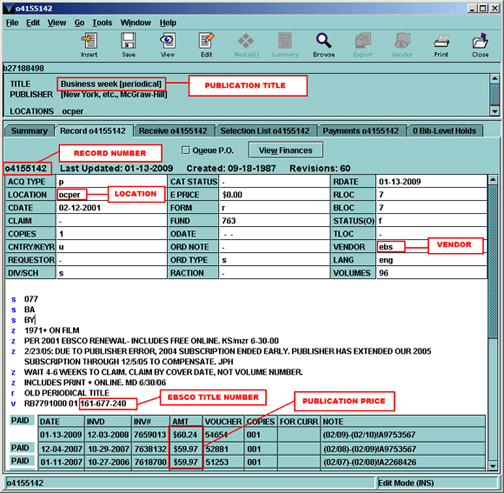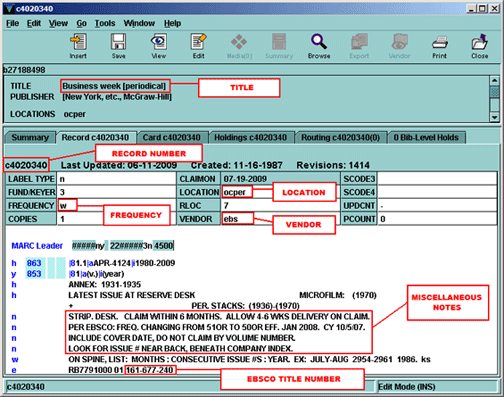 In Ursus, bring up the order record for the title you are comparing by entering in the EBSCO ILS # (what we refer to as the order record number in the URSUS system).

Fields to check in the

order

record:

Title to make sure you have the right publication
Location to make sure it is our order record and not another library in the System
Vendor to make sure it is ebs (for EBSCO)

Compare the EBSCO # from the renewal to the one we have on our order record.

In our records we should have the EBSCO # and our account number (RB7791000/01).  Note: if looking at a Darling Center subscription the suffix will be (RB7791000/03).  Darling entries generally at the end of the renewal printout.
If the EBSCO # is incorrect, change it to what is in the renewal.

Compare the price in the renewal to the latest price on our order record.

If the price jumps drastically (doubles and increases by at least $1000), it should be noted so LAI can review.

Things to Check in the

Check-In

Record:

Title, vendor and location for solid record match
EBSCO title#
Compare the frequency codes to make sure they match renewal entry
Check Ebsconet for any claims cycle changes (eg. Claim within 60 days) which is found under Additional Info near the end of the record so will need to scroll down.
Finally, look at the check-in boxes to make sure that we are not claiming three or more of the most recent issues.

Other things to Look For

Some items will have no price  information in their EBSCO renewal entry, but instead will have a note.  For example:

If the note says "Standing Order", you will need to check and make sure there is a note in our order record that tells us this is a standing order.  If there is no note, then enter one.

If the note says "Will Bill Later" or "Will Order When Current" you should then enter a note that says: <date> PER YYYY EBSCO RENEWAL, WILL BILL LATER.  <your initials>

If the note says "*Suspended*", "*Discontinued*" or something similar, close the order record with status change to 'z' with note.  Highlight to bring to the Periodicals Specialist's attention for check-in record update(s).  These are relatively rare.
If there is no note in the price column, then the title often comes with another title.  When you look up a child record such as this it often goes to the order record of the parent title.  Or the entry may be cross-referenced – if part of a package, payment may be on a package record.
If a renewal entry is for a membership, the ILS number will bring you to the order record for the MAIN title record for the membership.  There will be separate bibliographic records on URSUS for each title that comes with the membership.  The attached order record for each of these will refer BACK to the main order record attached to the umbrella membership record.
If you encounter a situation that is not covered by these instructions, use your best judgment as to whether it is a problem.  In general, if something is changing with a title, and we have a note about the change, it's not a problem.  When in doubt, ask for assistance or record it as a possible error.
Contact: um.library.technical.services@maine.edu
Return to Technical Services Table of Contents.