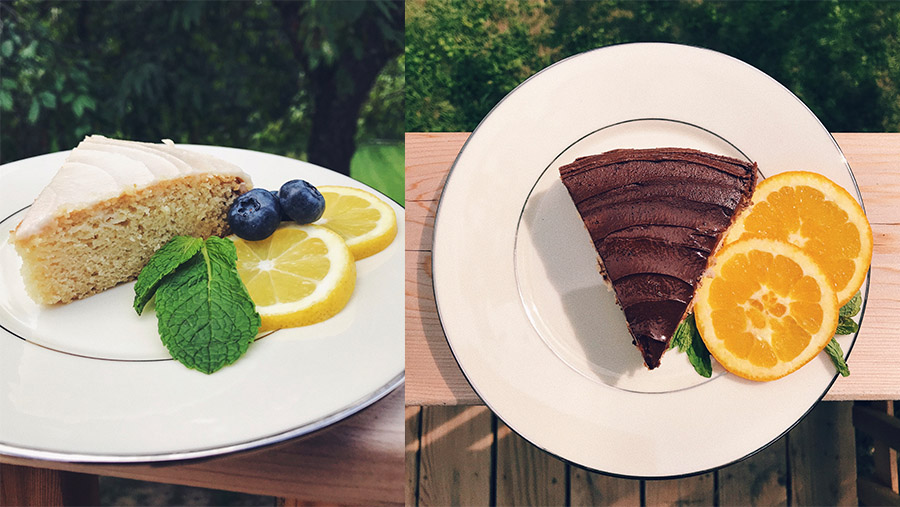 A Recipe for Business
During his senior year at the University of Maine, Tyler Cote took the first steps to launch his business, Lorraine's Cakes, a gluten-free, vegan, soy-free and all organic cake company. As a gluten-free vegan, Cote had a good idea of how his product could succeed in the marketplace, but he knew that targeted research and data could help strengthen his business plan. Before starting his business, Cote worked extensively with the staff at Fogler Library to research his idea's potential.
"I was researching the market to see what kind of niche exists and wasn't being filled," says Cote, who graduated from the Maine Business School. "Then I researched market values of the gluten-free, vegan and specialty food markets individually to understand what those markets look like now and how they are projected to grow in the future."
Throughout his research, Cote worked with Grace Liu, the Business Reference Librarian at Fogler Library. With the help of Liu's guidance, Cote took advantage of a variety of resources provided by Fogler. These resources helped him validate his business idea before getting started.
"There were many promising statistics and market numbers Grace and I found," says Cote. "The most eye-opening statistics we're seeing is that the gluten-free market value doubled in the past five years.
"Many of these statistics contributed to my knowledge of the market before entering it. Grace and I would meet at least once every other week doing this research."
In the future, Cote hopes to expand the reach of his business into local supermarkets, and he's confident that the skills and relationships he developed at UMaine will serve him as his business grows.
"Soon, we'll move into our own facility," says Cote. "Then we want to expand product lines and expand our reach to all over the country."
This story was originally featured in the 2018 Raymond H. Fogler Library Magazine.