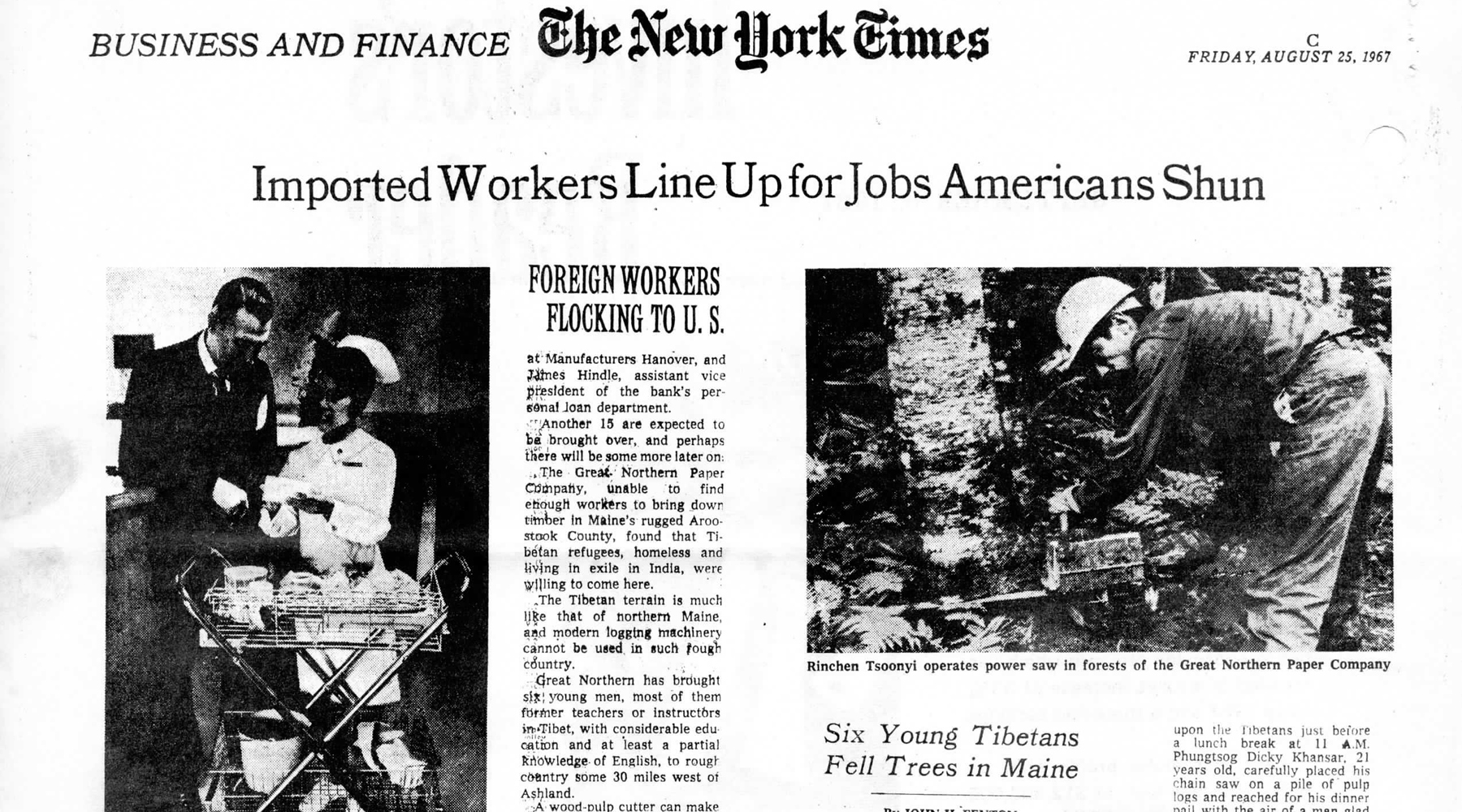 Articles on Tibetan Community in Maine
Last year, a diligent researcher asked whether the Great Northern Paper Company Records included anything about a group of Tibetan workers who had been recruited in 1967 to be trained as loggers in the Maine woods.
The Great Northern Paper Company Records have been one of our most popular collections for several years, but as far as I knew, no one else had ever mentioned anything related to this topic.  However, sure enough, the company's newsletters include several articles about the program.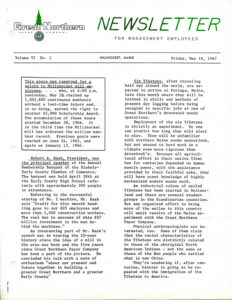 The first appeared May 19, 1967 and began, "Six Tibetans, after traveling half way around the world, are expected to arrive at Portage, Maine, later this month where they will be trained in skills and methods of present day logging before being assigned to specific jobs at one of Great Northern's Aroostook woods operations."
Many additional newsletter headlines followed, including, "Tibetans Arrive" (July, 1967), Tibetans Register for Draft (April, 1968), Tibetan Family Joins Maine Woods Trainee (December, 1968), Twelve More Tibetans Hired (June, 1969), More Tibetans For Maine (August, 1969), Newest Tibetan Arrival (a birth announcement, in January, 1970), and Tibetan Woodsmen – A Final Report (November, 1971).
One of the Great Northern newsletters included a reprint of an article that appeared in the New York Times on August 25, 1967, positioning this program within a national context of immigration.  The headline, "Six Young Tibetans Fell Trees in Maine" was part of a broader section under the heading, "Imported Workers Line Up for Jobs Americans Shun; Foreign Workers Flocking to U.S."
While there were brief mentions of the history of this Maine Tibetan community here and there on the open web, it was great to see that some researchers would dig deeper to find a more detailed account of events, and that this could be found in one of our collections.
For more information, contact Special Collections at 207.581.1686 or um.library.spc@maine.edu.
UPDATE, September, 2021:  The articles mentioned in this post are now available online in the Great Northern Paper Company Records in DigitalCommons@UMaine.
This favorite contributed by:
Desirée Butterfield-Nagy, Reference Archivist / Special Collections Librarian