Cataloging: Microforms
Purpose:
To provide guidelines for cataloging microformats including: microfilm microfiche and microopaques.
---
Background:
Over a long history of the microform collection development, many microform materials, including Theses, Monographs, Maps, Serials, Manuscripts, Archives, Newspapers, and Periodicals have been acquired through different venues. Various cataloging practices have been in used over time, contingent on location as well as format.
Policies
Rule
The cataloging treatment of an item that is published as a microform edition differs from that of a microform issued as a reproduction of previous published material. Items that are microform publications of material are cataloged according to RDA. Items that are microform reproductions of previously published materials are cataloged according to the LC-PCC PS for RDA 1.11. Bib information on a record for a microform reproduction must reflect the original publication in responding fixed and variable fields.
Call Number
1. Microfilm is classified in 092 field.
2. For monograph or non-serial collection, a cutter number is assigned based on the main entry in $b followed by Microfilm
Example:
092   Microfilm $b B657
3. All serial titles have call number "Microfilm" only and will be shelved by title.
Example:
092   Microfilm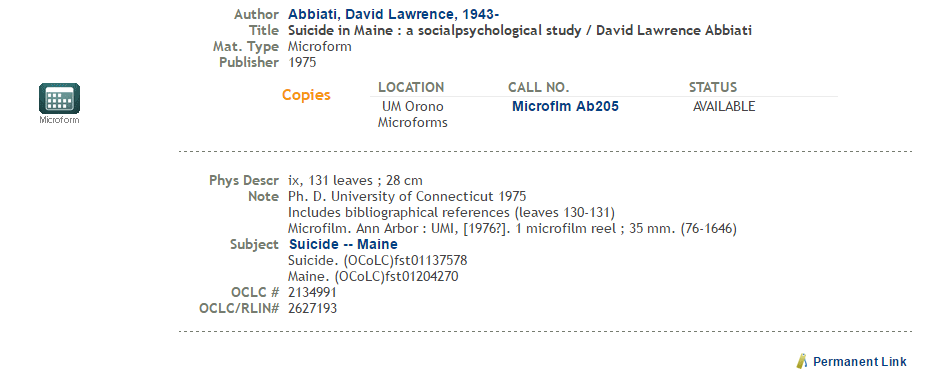 d. Microfiche is classified in 092 field also and the call number only consists of "Microfiche". Fiches are filed in fiche drawers alphabetically by author or title.
Example:
092   Microfiche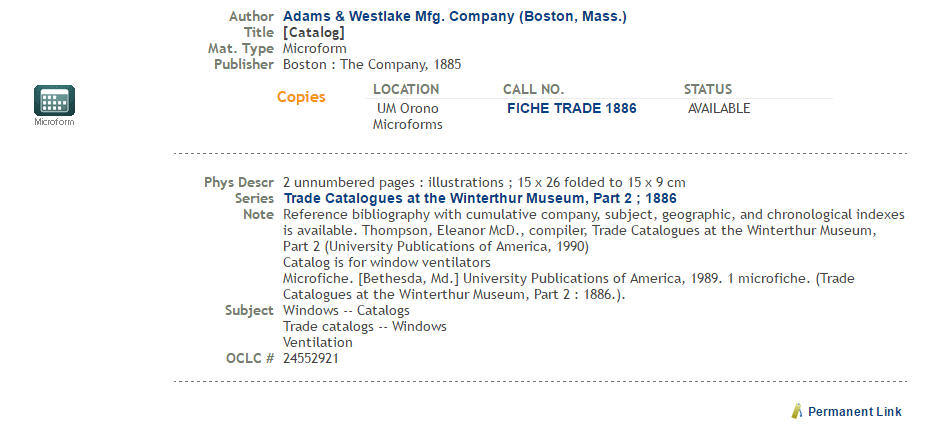 Barcode
Barcode should be applied on the item
Label
Label should be printed out and attached to the item.
Item Record
For microfilm and microfiche, the item record are the same.
b1-m
ty-11
sat-o
loc-omic
Example:
94933*recs-b;ov-.o;b1-m;b2-o;b3-u;bn-oro;i-/sta-o/ty-11/loc-omic/i2-
Accompany Materials
a. If there is a hard copy guide to go with film or fiche that can be cataloged separately as a monograph classify with normal LC call number. Note should be made on bib record for film or fiche indicating the call number of corresponding guide. Location for the hard copy is also "omic." Print and attach label to the outside cover of the hard copy.
Example:
590   Guide to Microfilm $b L456.
b.

A description of the accompanying material

can also just be put in 300 field subfield e.

Any associated physical description statements are enclosed in parentheses.

In this case the accompanying material (a guide/index or whatever) is not separately cataloged. Add Guide or Index to the end of the call number and print and attach label to the outside cover of the hard copy.
Examples:
300   1 microfilm reel ; $c 35 mm. + $e 1 guide (119 p. , ill. ; 24 cm.)
092   Microfilm $b B929 Guide
Return to Technical Services TOC