Cataloging: Minimal Level Records
Purpose: We have devised this process in the interest of providing prompter access to the distinctive materials in the Special Collections pamphlet collection,  many of which require original cataloging.  The cataloging criteria are based on national practice for minimal level cataloging (MLC).
---
Material arrives on the shelf from Special Collections assistant who assigns accession number.  For purchased materials, there will be an order number/no order record slip upright in the folder with acquisitions information.
Serials
If you find more than one issue of a title that appears to be a serial in an incoming pamphlet folder, please bring to Sharon for a decision on how to proceed.  In cases where the serial issue has, it's own distinct title, we will generally elect to catalog it as a monograph with a series (830 field) tracing.
Serials without distinct issue titles will be represented by a collective record created following guidelines for MLC established by CONSER.  Serials Staff will process these and return to Special Collections to be placed in their serials stacks rather than the pamphlet files.
Search URSUS for pre-existing serials records or monograph records created for single issues of a journal title.
Search OCLC for the same
No record found create single record using the "continuing resource" template
Search Online Constant Data list and highlight MLC Serials
Choose radio button to apply both fixed and variable field constant data. [Note: at present only, 2 variable length fields will be incorporated but constant data fields are fleshed out other than date]
[Place holder for image of Serials bib]
URSUS – attach closed holdings record to represent issues in collection. [paste sample holdings record here]
Search OCLC
Copy in another format – use for derived record
Copy with different dates or pagination – use as help copy [details to follow later]
In both cases, copy cataloger can derive the new record based on the existing record and finish up the minimal level cataloging as long as the original template record has the subject heading(s) in place. When deriving from a microform record, one should make corresponding changes in both fixed fields and variable fields as appropriate. Below is an example of a microform record to be derived upon: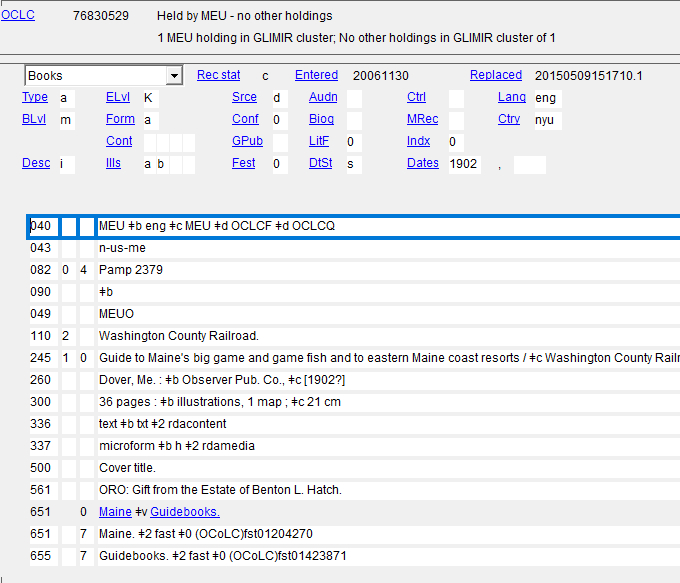 Fix fields checklist:
Desc – a
Form – blank
Dates – check
Ills – check
Ctry – check
Variable fields checklist:
Delete 007 field
Delete $h [Microform] in 245 field, double check the second indicate value if there is any nonfilling character(s) presented in the title.
Edit 300 as appropriate
Delete 533 field
Delete any 500 notes related to microform record
A completed new record should be like this: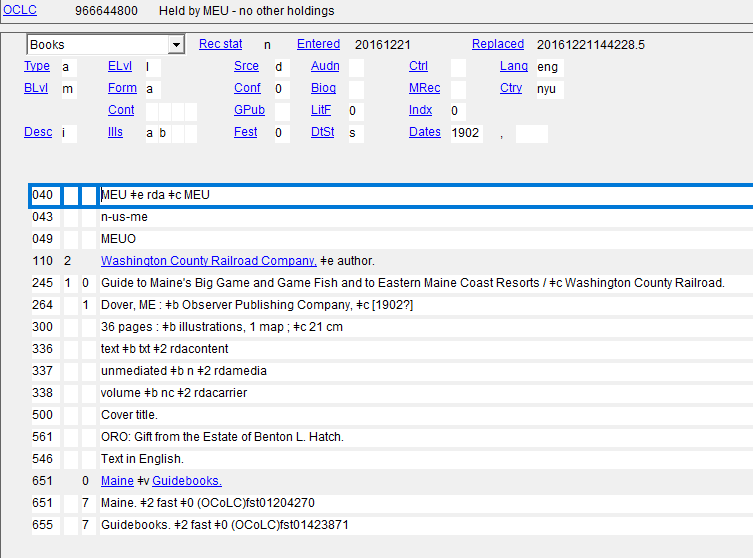 If record not found, classified staff will derive new record from model record provided by professional cataloger. A screenshot of the bib record is as follows: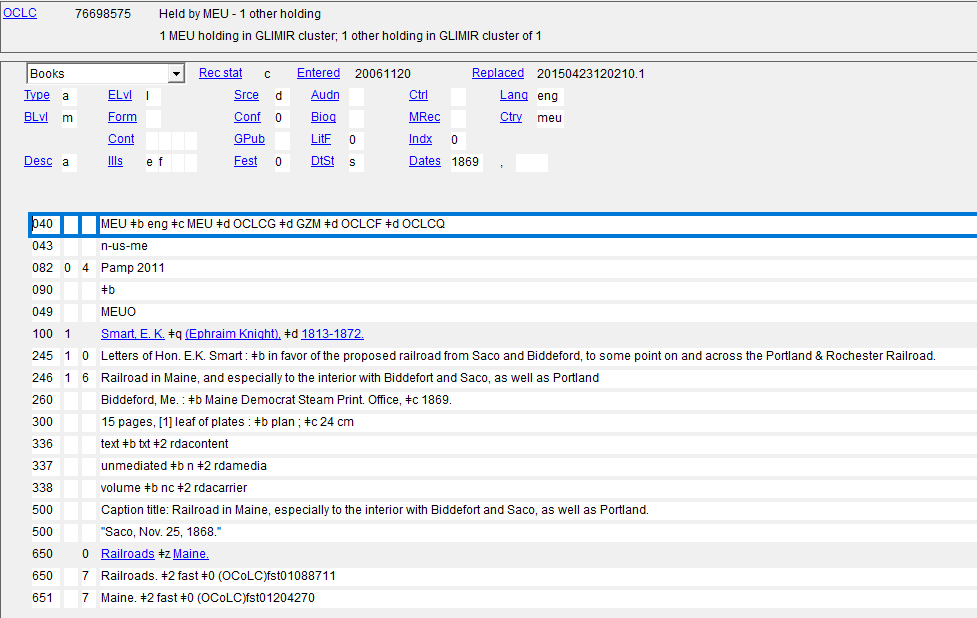 I. Descriptive Cataloging checklist of fields to include for Special Collections Pamphlets
A. Fixed fields
Dates – Edit
Ills – check
Ctry – check
B. Variable length fields
092 use provided access number
1xx (author field)
245 (main entry or title)
260 (publishing information)
300 (physical description)
610 (if applicable and readily apparent, corporate entry that is the subject of the work; eg. Biddeford Public Library)
710/110 (if applicable, corporate entity responsible for publication)
949 (use pattern in derived record, don't forget to change to your cataloger code after b3- )
II.  Save record online
III. Subject heading assignment
Professional cataloger will retrieve the record and add subject access, usually just one heading
IV. Resave and back to descriptive cataloger.
V. Export, Physical Processing and Delivery
Check returned material for an order bib number on the inserted white slip.
If order bib number appear on the slip, be sure to overlay when exporting record to URSUS
Proceed to print labels
Direct cataloged materials to student to complete physical processing
Deliver materials to Special Collections
Return to the Technical Services TOC