Digitization: Managing Kendall Collection
Kendall log
Scanning
Backing up files
Processing images for upload
Processing programs for upload
Uploading to Digital Commons
Purpose: Instructions for the multi-step process of scanning, documenting, and OCR'ing documents from the Kendall collection, then uploading digital files to DigitalCommons@UMaine (http://digitalcommons.library.umaine.edu/kendall_collection/).
Access: Access to albums in the Kendall collection is arranged through Special Collections. Coordinate with the Archivist/Special Collections Librarian to obtain as well as return boxes of material to scan. Keep materials protected in a dry location away from direct sunlight.
Kendall Log: To accurately assign sequential identifier numbers and track which album pages and images are scanned, keep a running record in an Excel file.

A copy of the file KendallLog.xlsx is available at Share > DigitalCommons > Kendall Collection. This log includes the Scan Sheet (see image above) where unique identifiers are assigned; the photo entry log; and a sheet containing information about the horses listed on race score cards and programs.
Protocol for Kendall Collection digital file identifiers is to use the Special Collections manuscript number (MS_1465) followed by the box number (b001) and album year rather than folder number (1927a), then img or doc designating whether the scan is of a photograph of print document and finally a unique, sequentially generated number. Example: MS_1465_b001_1927a_img_00401.
Due to the sheer volume of digital files generated in this project it is important to provide cross-referencing for digital scans to stay organized, reduce potential duplication, and avoid skipping images:

When scanning full pages record the album page and album year (example: page 55_1927a) in the Doc Type column. Record Kendall's handwritten caption in the Title column for each image or race document in the Title column. (Neptune Boy/Douglass Watts/Bonnie Watts)
When scanning individual images record the type of document, such as "photo" or "score card," in the Doc Type column then include the page number and record either the document title or Kendall's handwritten caption for the image in the title column.
For each document scanned, record the digital file type(s) appropriate to the scans captured (pdf, jpg, bmp). Digital file names will match up with the identifier generated in this log.  This will ensure you can later match, one-for-one, the files you need to archive and process for upload in Digital Commons.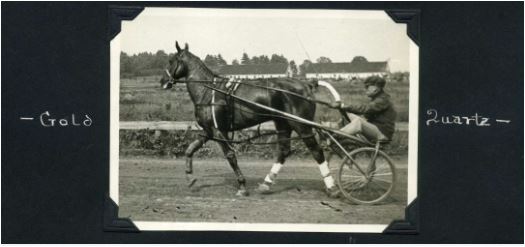 Scanning: To minimize handling of photographs and reduce risk of damage from being removed from and replaced in photograph album mounts, scan Kendall album pages intact using the processes outlined in Scanning Photographs and Scanning Documents. To set up to scan:
Make certain to have extremely clean, dry hands while handling archival materials. Never directly touch the surface of photographs with your fingers.
Place photo album on a flat surface near the scanning station where the album is fully supported when open.
Gently open the binder rings and remove only the pages that you will be scanning.

If you must scan the inside of the front and back covers, very carefully remove all the album pages, a few at a time, taking care to keep the pages in correct order.  Place the album pages on a clean, dry surface where they are fully supported until being replaced in the album.
When you are done scanning the inside of the front and back covers, carefully replace a few album pages at a time, taking care to keep the pages in correct order.
For [cropped] images only, create digital files in bmp and jpg formats.
Score cards may be carefully removed from corner mounts in order to capture print information on the reverse sides. For print documents removed from the album, create digital files in pdf format only and scan all pages of the documents to a single pdf file.

DO NOT

remove documents originally glued into the album by Kendall.
When possible, scan both sides of score cards but do not transcribe any handwritten notes from the backs of score cards.
SCANNING TIP: Check the option to "Open image folder after scanning" so it is possible to immediately check file names and make corrections, as necessary.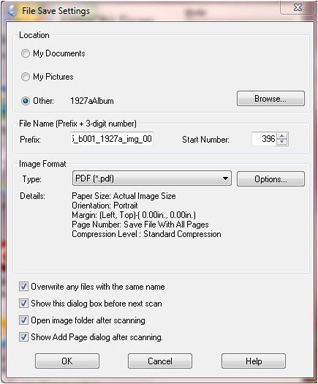 Backing Up Digital Files: Due to the complexity and number of files being generated, it is advisable to process digital files as soon as possible after scanning.
Sort digital files by file type.
Preservation files (bmp and pdf) should be backed up to the appropriate file within Computer > speccoll (\\library11) (X:) > Digital Collection files > Kendall Guy preservation copies.  Preservation files will be access for duplication purposes only.
Access files (pdf and jpg) should be backed up to the
Follow scanning instructions provided in Scanning Photographs or Scanning Special Collections Documents, as appropriate. Scan all full album pages at 8.10 in. x 10.72 in. to maintain consistency from album to album.
Enter the first portion of the identifier number in the "Prefix" box of the EPSON File Save Settings dialog box.

Example: MS_1465_b001_1927a_img_00. Set the "Start number" to match the sequential number that matches the scan log (see above). When creating scans in multiple formats, it will be necessary to reset the "Start number" with each scan.
Example: MS_1465_b001_1927a_img_00396 will have three associated file formats because you are generating both preservation and access files simultaneously to minimize handling.

MS_1465_b001_1927a_img_00396.pdf;
MS_1465_b001_1927a_img_00396.jpg; and
MS_1465_b001_1927a_img_00396.bmpiii.
iii.   Scan each complete album page to provide context for the images and documents.
iv.   To reduce handling, do not remove photos from corner mounts. Permission has been granted by Special Collections to crop scans to highlight specific images but include Kendall's handwritten captions.
v.   For full album pages, create digital files in bmp, jpg, and pdf formats.
7. Access files (pdf and jpg) should be backed up to the appropriate file Computer > speccoll (\\library11) (X:) > Digital Collection files > Kendall Guy access copies.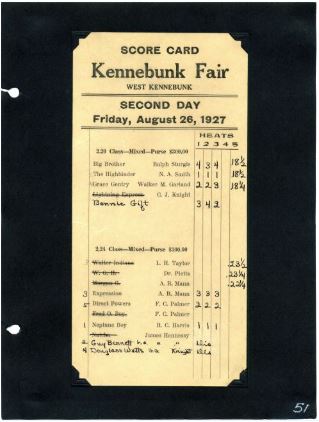 Processing Digital Images for Upload:  Uploading files to DigitalCommons@UMaine is faster when files are prepared in batches in advance of data entry.  By recording information in the Excel spreadsheet, facts can be easily proof-read and corrected before information is copied and pasted into the Digital Commons data entry interface.
Sort images by file type (pdf and jpg) into working files on your workspace desktop.
Review jpg files using Adobe Photoshop to rotate images into proper viewing orientation prior to upload.
Open KendallLog.xlsx to the "HorseList" page of the workbook.  This page is used to document each of the horses listed in each of the score cards and programs in the Kendall albums to help ensure consistency in the entry of data in Digital Commons.
In order to reduce handling of the original documents, use the pdf files of score cards and programs to make additional entries to the "HorseList" page of the KendallLog.xlsx workbook, as appropriate, to record the names of new owners or update missing breeding information.  This information is used to confirm that Digital Commons records are as complete and accurate as possible.
Use the pdf scans and information from the "HorseList" page of the workbook to compile information for DigitalCommons data entry in the "photoEntry" page of the KendallLog.xlsx workbook.

Keywords will include: Standardbred horses, American Standardbred racehorses, Maine harness racing, Maine horse racing, Sulky racing, Trotting races
The final keyword will be the album identifier, such as1927b album, which is used as the designator to filter images into the correct decade within the Kendall Collection on Digital Commons.  This final keywork MUST be consistently accurate for the filter operation to function properly.

View the jpgs and scans of score cards/programs to write a brief, descriptive abstract for each image.  Include the race name and event location whenever possible as this provides additional discovery points for patrons. It is appropriate to also record information about race results, as documented by Kendall.  Example (see image above):  Black and white action photo of chestnut gelding, pacer Gold Quartz at the first day of the Gorham Fair, Gorham, Maine, September 1927. Gold Quartz placed second in the 2.12 Pace.
Once documentation is complete, begin uploading images to DigitalCommons@UMaine.
Processing Programs & Score Cards:  Uploading programs and score cards to Digital Commons is faster when files are prepared in advance by OCRing the documents using ABBYY Fine Reader.  In this way, text for the line up of horses can be copied directly from the OCRed document to add to the comments field in the Digital Commons data entry form.  See Uploading Programs & Score Cards.
Contact: um.library.technical.services@maine.edu
Return to Technical Services Table of Contents.