Binding: Holdings Merger for Returned Volumes
Purpose: To establish a formatted pattern for bound journals to enable the automatic merger of holdings as new bound volumes are received and checked in.
Note: This retrospective project ca. 2005 was necessary for legacy subscriptions migrating from ascii to Millennium.  Occasionally titles with long frequency cycles require these steps today.  3/13/09
A. Define holdings pattern
Open MilSer and select "Check In Bound" module
Open desired check in record
Toggle to Holdings tab
From "Tools" menu select Pattern Menu –> Define Pattern

Levels of enumeration
Levels of chronology
Uncheck "display caption" box

Submit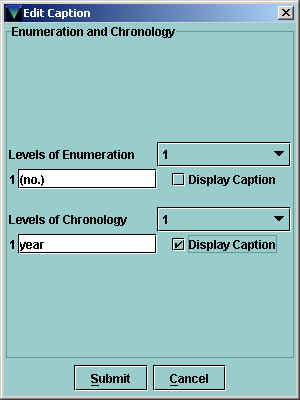 B. Manually merge all sequential holdings in structured template
Toggle to the checkin CARD tab
Click the Check In Bound button (boxes for bound issues will disappear from display)
FIRST title in a given session will result in following dialog box.  Check radio buttons and 1 copy as indicated below: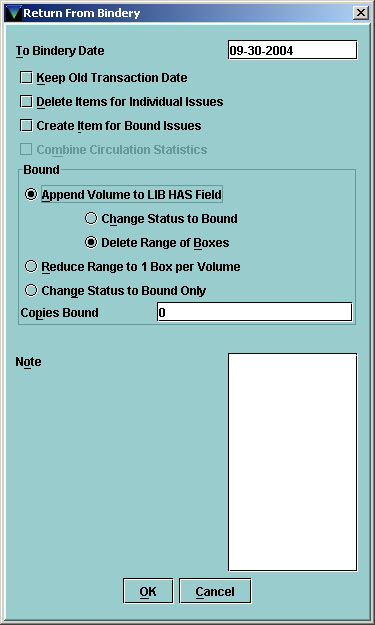 Click OK to accept parameters for the session
Next dialog box will show holdings to be added to existing statement with the new holdings highlighted
In the "Selected Range" section, replace the volume and date boxes on LEFT to cover previous holdings.  Note: Start with beginning of most recent unbroken holdings in print sequence.
Optional – Select "Advanced Holdings" button if looking to change wording of caption (eg. "no." instead of "v."  Highlight the pattern (853) field.  In resulting window below type your changes.
Apply changes
Submit
C. Delete unformatted previous holdings
Toggle to checkin RECORD tab
Look for unformatted holdings field (no MARC tag present) and delete all but the location pre-stamp (eg. PER. STACKS) Note:If there is a break in the holdings, only delete the most recent run as this is now formatted above and will now be ready for automatic merger of holdings the NEXT time bound volumes are checked in.
Toggle back to holdings tab to check that display is correct
Close and save record.
D. Subsequent check in of bound volumes should only require the following:
Open Check In Bound module in Mil Ser
Open checkin for a specific title
Toggle to "Holdings" tab
Click "Merge with Previous"
Apply changes.
Save and close record.
APPENDIX
Titles we have tested the process on:
EContent (sample with split holdings AND 2 levels of enumeration
Educational evaluation and policy analysis (straightforward example)
Educational and psychological measurement (requires "p." caption display)
Moyen Age (example with break in holdings)
Recherches Sociographiques (straightforward example)
Svobodnaia (required swap from "v." caption to "no." caption)
Further examples (November 2004):
Astronomy and Astrophysics (been through full cycle)
Economic review (a quarterly)
Canadian journal of economics (gaps in holdings example)
Harvard business review (a monthly in multiple formats example)
Contact: um.library.technical.services@maine.edu
Return to Technical Services Table of Contents.