Cataloging: Science and Engineering
Purpose: To provide individual cataloging records in URSUS while using a shared call number to interfile with existing standards held in the Science and Engineering Center.  No retrospective cataloging plans at present. Adopted in February 2007.
New titles ordered through Monograph Acquisitions.
Consult established call number table or previous examples and add to book slip
See established series authority records in URSUS.  Example fields follow:

490 1     ANSI Standards ; |vS3.13-1972
830 0     ANSI (Series) ; |vS3.13-1972  [

Note:

Need 490 and 830 for ANSI]
830 0     ASHRAE Standard ; |v90.1
830 0     British Standards Institute ; |vBS 8723-1:2005
830 0     IEEE Standards Collection ; |v1226-1998(R2004)
830 0     ISO Standards Series ; |vISO 281r
---
Full record examples:
ANSI (September 2014)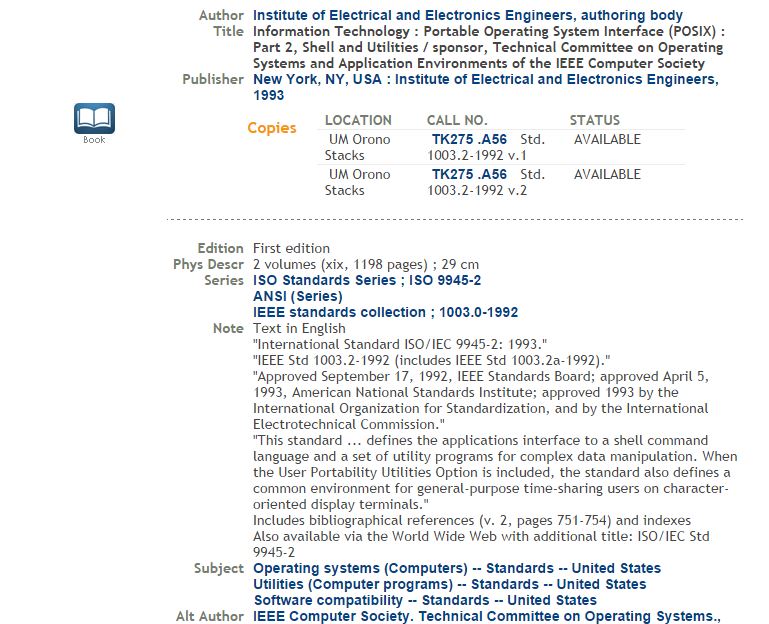 ---
ASHRAE (October 2014)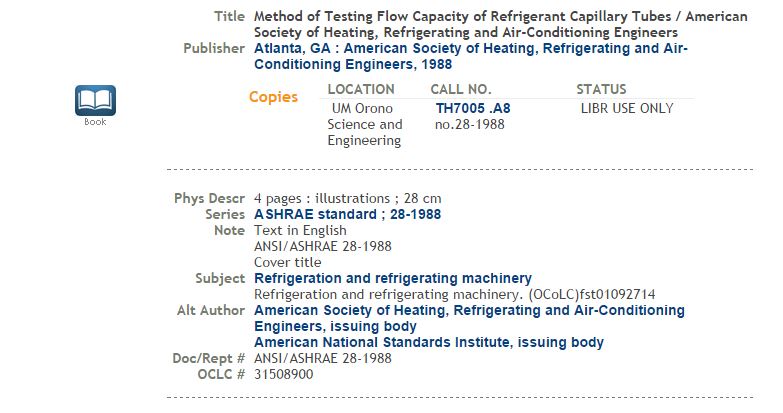 ---
Pass on to copy cataloging staff.
Staff search and download bib record for individual title
Bib should include an 830 or 440 field for a series tracing
Item record will include

status – o library use only
loc – orefo
Established call number
barcode
volume field for standard number

Physical processing
Deliver to Science and Engineering
---
ANSI/ASME
Ref Standard
TK
275
A57
Std. [number]
ASHRAE
Ref Standard
TH
7005
.A8
BS (British Standards Institute)
Ref Standard
TA
368
.B75
Std. [number-pt.]
[date]
IEEE
Ref Standard
TK
275
A26
Std. [number]
Date
Reissue Date
ISO
Ref Standard
TA
368
I67
Std. ISO#
[ed.]
[date]
Return to Technical Services Table of Contents.