Technical Services: Subject Portal Access
Purpose: To outline the purpose of the Fogler Library Subject Portal Staff Interface.
Overview: The Subject Portal was originally created in the early 2000s to host Resource Guides authored by subject specialists. With adoption of the Springshare and WordPress software, the Subject Portal was stripped down to serve only as a database to deliver information about recent monograph acquisitions to each subject guide.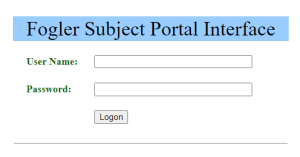 To access the Subject Portal, go to the portal interface login page. Enter your user name and password.
Once you are logged in, you may opt to edit the subject list or upload [Excel] files to update the database of recent acquisitions. The specialists editing tool no longer connects to any external resources.

Log Out
When you are done working in the Subject Portal Staff Interface, it is important to click the "Log Out" link, as it will properly close out your work session. Just closing or quitting out of your browser can lead to unresolved work sessions. If you encounter issues, clear your browser history, cache, and cookies. Close out your browser, then open a new browser window and navigate to the login page.
Return to Technical Services Table of Contents.