Technical Services: Exporting Review File Data into Spreadsheet
Get the data:
Go to the Create Lists function in Sierra
Highlight the review file you want to export
Click on Export Records
Under Fields to be exported section enter the data you want to include; use Append button for additional fields.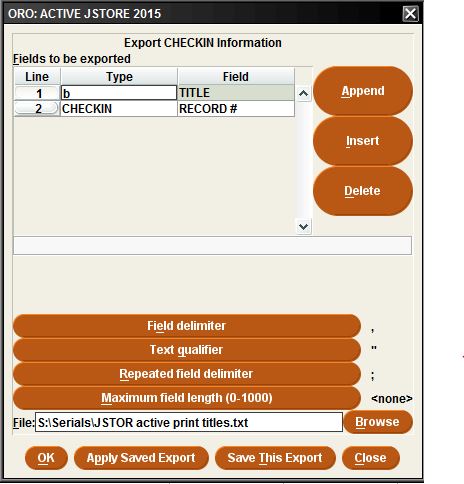 Field Delimiter: Choose "ASCII Character" and type in: , (comma)
Text qualifier: Choose "ASCII Character" and type in: " (quote)
Repeated field delimiter: Choose "ASCII Character" and type in: ; (semicolon)
Maximum field length: <none>
File Click on Browse
Choose a convenient location and a descriptive file name (e.g. NewAcqJan16)
Files of type value should be "Text Files .txt"
Click Save
Click OK (It will take a minute or two to export the records)
Create the Excel file
Open Excel
Create a new document
Click on the Data tab
In the Get External Data section click on "From Text"
Select the text file that you created in Sierra

Click Import
In the Text Import Wizard
Choose "Delimited"
Click Next
Under Delimiters uncheck "Tab" and check "Comma"
Click Next
Click Finish
Click OK
Return to Technical Services Table of Contents.