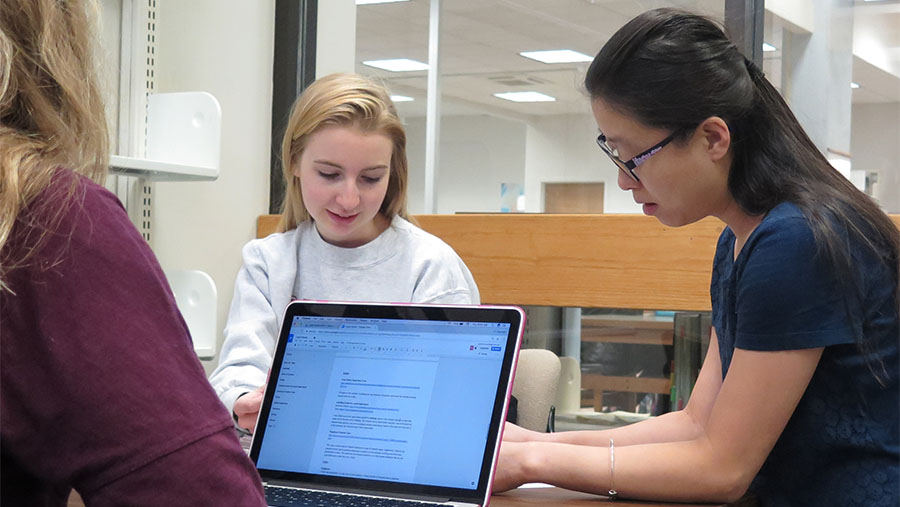 Industry Insight
Entrepreneurs, small businesses receive free support from library
Several years ago, George McBride, owner of Downeast Turbines in Whitneyville, Maine, had an idea for a new way to harness energy from tidal waters. At the time, he was teaching math to boat building students in Eastport.
In 2009, he started his first prototype. From the beginning, McBride knew that he wanted his idea to be the seed of a business. Though he enjoyed tinkering on the technical aspects of the invention – he has a degree in physics and worked as a manufacturing engineer for many years – he knew that a business was the only way for the product to achieve its real-world potential.
Eighty miles to the west of Whitneyville, Edner Mae Fago is a different kind of inventor. Fago is the sole proprietor of E. Mae Media Arts in Brewer, Maine, where she provides marketing, graphic design, photography and other creative services to businesses. Fago has a background in TV and documentary production, and she began freelancing several years ago. Over time, she became more and more interested in design and marketing. Eventually, her work as a freelancer grew into a business.
Along with many business owners across the state, McBride and Fago share a similar obstacle. While they may be experts in their fields, that expertise doesn't always teach them the best way to start, run, or grow a business.
"[The prototype] combined my interest in physics, manufacturing, and tinkering," says McBride. "I don't have experience in the business side, though. Marketing, sales, deciding on products, that's not what my background is."
For both Fago and McBride, this need eventually brought them to the University of Maine, where they began working with Gracie Liu, the Business Reference Librarian at Fogler Library.
In addition to supporting the UMaine academic community, Liu's role at Fogler has an interesting public component. In the simplest sense, Liu teaches entrepreneurs, freelancers and start-ups how to find information.
"My goal is to introduce small business owners to value-added resources," says Liu. "Whether it's information on market research, financial analysis, marketing plans or sales, we want members of the business community to have information they can trust and use."
In practice, the process she goes through with business owners is far more nuanced. To support entrepreneurs, Liu needs to have a broad understanding of various industries and the information resources available. She also needs to make a special effort to connect with community members who can benefit from her expertise.
Liu's work is part of a suite of services Fogler Library offers to Maine residents who are starting or running a business. In addition to Liu's service, Fogler Library is Maine's designated State Research Library for Business, Science and Technology, and the only Patent and Trademark Resource Center in Maine.
Business owners come to Fogler Library through a number of channels. Some, like George McBride, are using services through UMaine Cooperative Extension, which has county offices throughout the state and helps provide research and subject-matter expertise to Maine communities.
Others are introduced through various partnerships with organizations such as MaineStream Finance or New Ventures Maine, two non-profits offering free workshops and classes to Maine business owners.
In most cases, these business owners are at the early stages of development and trying to educate themselves as quickly as possible. By working one-on-one with Liu, they can get suggestions tailored to their industry, their business and their experience level.
"I didn't know where to start," says Fago, who had to write a business plan as part of a course with New Ventures Maine. "I didn't know what questions to ask or what places I could go to get the information I needed.
"The instructor gave me a letter from [Liu], so I called to make an appointment."
Programs offered through Cooperative Extension, Fogler Library and other non-profits fill an important role in Maine's economy. According to the U.S. Bureau of Labor Statistics, 15% of Maine workers are self-employed, the second highest rate in the country, and between 2012 and 2022 self-employment is expected to grow in about half of all occupations. A small business profile of Maine showed that small businesses employed 57% of the state's private workforce.
In the digital age, information about building, running, or growing a business is easy to find. Knowing what information to trust, however, is a more complicated task. For early-stage entrepreneurs, acting on bad advice can have devastating consequences for their business. By working with information experts at Fogler, business owners have a free option for learning how to execute essential business functions on their own.
"How do you price your services? How do you see where your customers are?" asks Fago. "There are so many avenues I may not know about. To have a resource who can give pinpointed and targeted advice is such a relief."
Even though Liu regularly gives consultations to individual business owners, there's an important disclaimer in her efforts: she doesn't do the work for them.
"We're not able to develop a marketing plan or do market research for [business owners]," Liu explains, "but we can connect them to resources they can trust that will teach them how to do the work on their own."
"I really appreciated [Liu's] assistance," says McBride.  "She taught me about what information is available that could help me, and she gave me some helpful tips and leads about possible markets for my product."
Implicit in Liu's work is the understanding that the need for business owners to educate themselves and adapt will never be fully met. Entrepreneurs like McBride and Fago know this as well, and their drive to make the most of the resources available to them is exciting for Liu.
"I want to see people succeed," says Liu, who is working toward an MBA to better serve the business community. "We can help business owners make more informed and better decisions that will expand their opportunities."
As Fago acknowledges, the hidden benefit of these services is knowing she has someplace to go and experts to lean on. For an entrepreneur, finding reliable partnerships can make all the difference.
"For me," says Fago, "to have a face at UMaine who's trained and qualified to answer questions, it makes everything easier. I feel like I have an inside contact."
—
This story was originally featured in the 2017 Raymond H. Fogler Library Magazine.