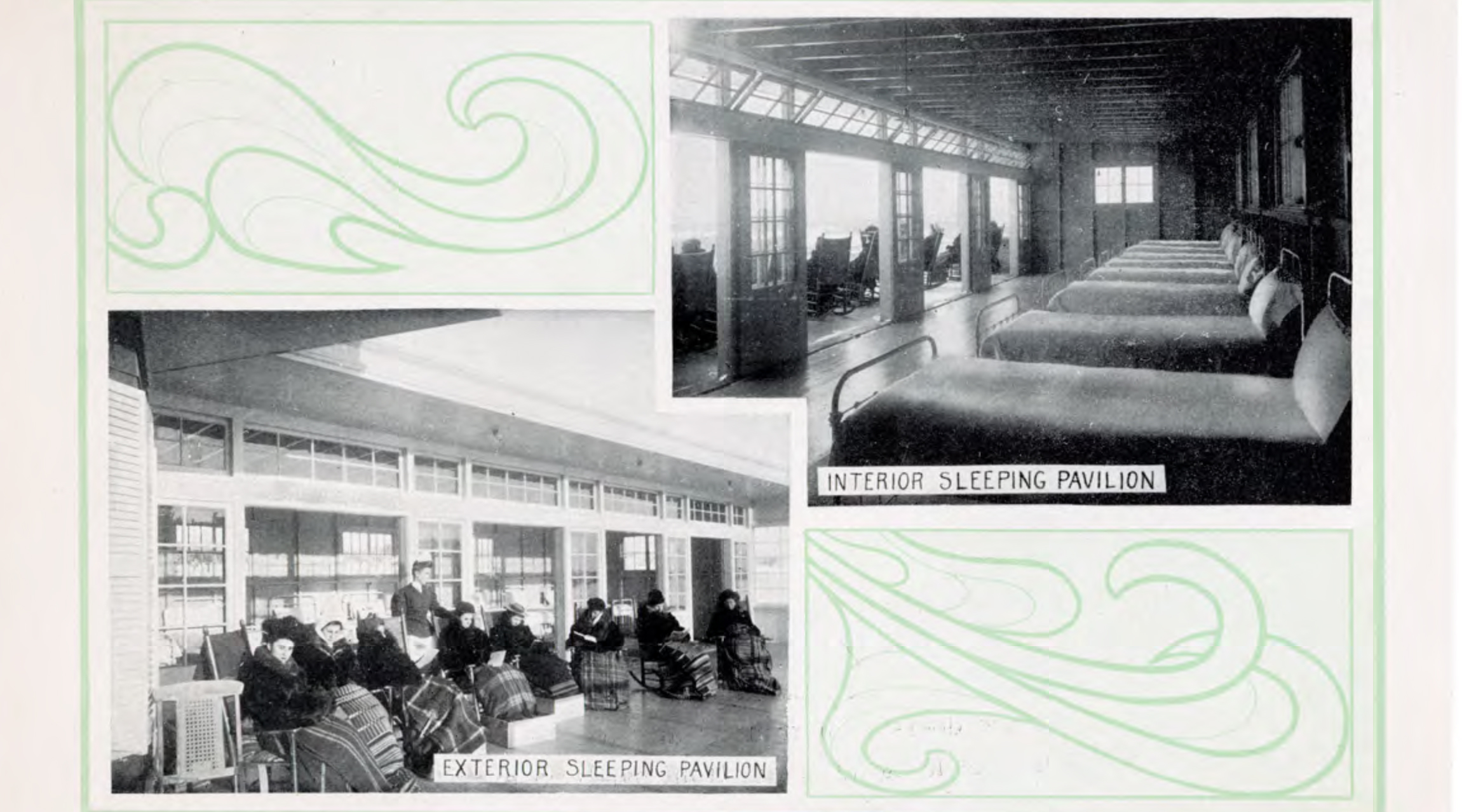 Open Air Schools and Infirmaries, early 1900s
As many businesses, schools, and organizations moved activities outdoors during the COVID-19 pandemic, photographs began appearing in the media showing similar efforts during the influenza pandemic of 1918, a time when hospitals, classrooms, and even some court proceedings were moved outside.
Efforts to treat tuberculosis during the first half of the 20th century also recognized that transmission was lower and patients healthier when exposed to plenty of fresh, outdoor air and good nutrition.
One of the documents in Special Collections related to this topic is The Origin and Development of the Open Air School, written by Marion Frances Quinn as she completed a Master of Education degree in 1946. Quinn had served as Director of the Open Air School in Bangor since 1935. She provides the history of the school as an outgrowth of a clinic on York Street that had been established by the Anti-Tuberculosis Association. She also mentions the influence of Maine's first Open Air Program in Portland, and explains that some schools, if not fully open air, were Open Window Schools.
While we haven't yet found a photograph showing an Open Air School in Maine, illustrations in brochures for the Maine State Sanatorium in Hebron show open air sleeping pavilions and patients bundled to be comfortable as they sit in rocking chairs on the porch to read, knit, and play instruments.
More information on Bangor's efforts to treat tuberculosis can also be found in History of the Bangor State Arsenal: its Reincarnation as a Convalescent's Home.
While many aspects of the COVID-19 pandemic truly deserve to be described as unprecedented, it was interesting to see that these programs in the early 1900s had taken steps to move traditionally indoor activities to the out-of-doors to better ensure public health.
This favorite contributed by: Desiree Butterfield-Nagy, Librarian / Archivist