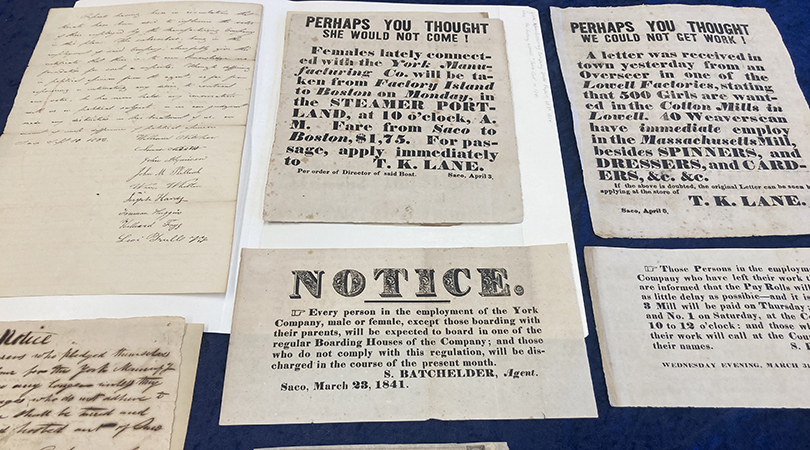 York Manufacturing Company Strike Papers Now Available
In 1841, nearly 500 female factory workers walked out of Saco's York Manufacturing Company and paraded up Main Street, chanting and singing. They gathered in a local church, formed a committee, and sent the factory owner a document articulating their complaints about wages, housing, and paternalistic rules. After a few days of fruitless negotiations with the company, Samuel Batchelder told the workers that if they did not return the next day, they shouldn't bother coming back at all. A half dozen went back to work but the majority of the young women proved loyal and sought work elsewhere. Although the operatives failed to win concessions, the Saco strike proved that women, despite their status as second-class citizens with few rights, had the collective power to bring a mighty corporation to a standstill.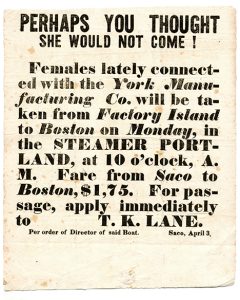 A small collection of documents related to these events was purchased by the Special Collections Department and is now available to researchers. Ranging in date from 1832-1854, the York Manufacturing Company Strike Papers include handwritten documents and printed ephemera relating to the women's strike and early labor organizing activities at the company mill in Saco, Maine.
This is one of several small collections related to Maine history that have recently been processed. Others include:
For more information on any of these collections, email Special Collections at um.library.spc@maine.edu or call 1-207-581-1686.