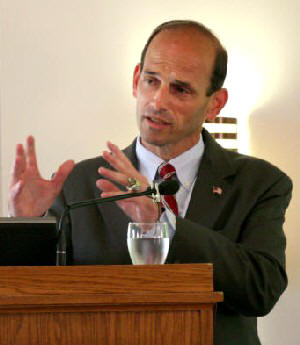 Photo by Don Radovich


Back to main Energy Forum page
The Honorable John E. Baldacci, Governor of Maine

Luncheon remarks
Transcript in PDF

John E. Baldacci was elected governor of the state of Maine in 2002 and was sworn into office on January 8, 2003. He was first elected to public office in 1978, when he won a seat on the Bangor City Council at the age of 23. In 1982, he was elected to the Maine State Senate, where he served until 1994.

In 1994, Baldacci was elected to represent the Second District of Maine in the U.S. House of Representatives. Re-elected to Congress in 1996, 1998, and again in 2000, Baldacci served on the House Agriculture Committee and the Committee on Transportation and Infrastructure. In Congress, John Baldacci focused attention on economic development issues—working to support value-added processing in Maine, to expand trading opportunities for Maine businesses, to increase federal funding for research and development, and to obtain more resources for the state's transportation network. He also worked for a balanced budget, a ban on lobbyist gifts, and enactment of campaign finance reform legislation. The National Energy Assistance Directors Association presented their annual award to then Representative Baldacci in 1997 for his work to preserve federal fuel assistance for seniors and low-income families.