Welcome to the William S. Cohen Papers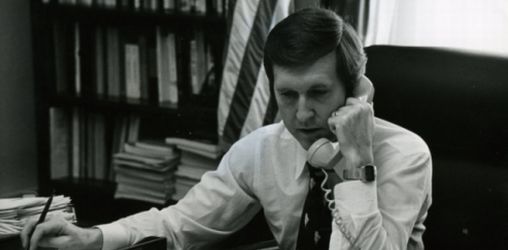 ---
The majority of the records in the William S. Cohen papers were donated to the University of Maine in 1996 and document the activities of Cohen and his staff members as he served as a United States Representative (1973-1978) and Senator (1979-1996). After Cohen's appointment as United States Secretary of Defense (1997-2001), Fogler Library received electronic copies of records from that time period. The records include manuscript material from a number of the books that Cohen has written, and although referred to as "the Papers," materials include photographs, film footage, audio recording(s), and memorabilia as well.
Materials measure approximately 1,500 linear feet and cover a broad range of topics during an era of Maine's history marked by dramatic changes in the textile, energy, and defense industries, health care reform, environmental issues, and concerns about government corruption and bureaucracy. Just a few of the topics covered by large portions of the records include Watergate, the Iran-contra Affair, Loring Air Force Base, the Dickey-Lincoln Hydro-electric project, and the Maine Indian Land Claims settlement.
An outline of the collection is available here which includes links to detailed descriptions of each series, subseries, and many specific folder titles. Each subseries appears on a separate web page for easier printing.
The search box below will launch a keyword search of the entire description. There is also an option to go directly to the complete finding aid to see the overall description and find links to some photographs in digital format.
Some records remain restricted. Please feel free to contact the Cohen Archivist for more information and assistance with this collection.