William S. Cohen Papers | Biographical Information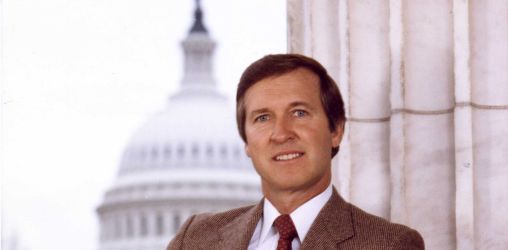 William S. Cohen posing with U.S. Capitol building in the background
---
Background | Public Life | Legislative Highlights | Constituent Service | Secretary of Defense | Author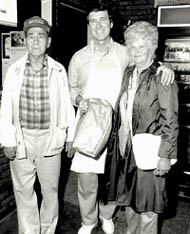 Photo of Reuben, William and Clara Cohen, 1980
William S. Cohen was born on August 28, 1940 in Bangor, Maine. His father Reuben, a baker, was a Russian-Jewish immigrant and his mother, Clara, is of Irish-Protestant descent. Cohen graduated from Bangor High School in 1958, and from Bowdoin College with an A.B. cum laude in Latin in 1962. An accomplished athlete, he was named to the Maine all-state high school and college basketball teams, and, while at Bowdoin, he was inducted into the New England All-Star Hall of Fame. In 1965, he received his LL.B cum laude from Boston University Law School and, during that same year, he became the assistant editor- in-chief of the American Trial Lawyers Association and a partner in a Bangor law firm.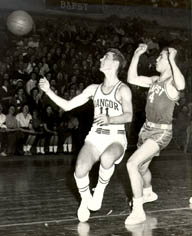 Bill Cohen, no. 11 on Bangor High School Team, 1957
Cohen was the Assistant County Attorney for Penobscot County from 1968 to 1970. In 1968, he was an instructor at Husson College in Bangor. He held an appointment as an instructor in business administration at the University of Maine from 1968 to 1972. Cohen was the vice president of the Maine Trial Lawyers Association from 1970 to 1972, and a member of the Bangor School Board from 1971 to 1972. He was a fellow at the John F. Kennedy Institute of Politics at Harvard University in 1972, and was named one of the U.S. Jaycee's ten outstanding young men in 1975.
---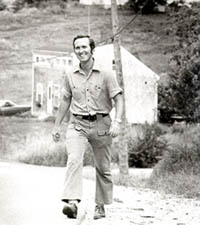 First Walk Across Maine, 1972
William Cohen was first elected to public office as a city councilor in Bangor, a position he held from 1969-1972; he was also the mayor of Bangor from 1971-1972. He was elected as a Republican to the House of Representatives in November of 1972 from Maine's Second Congressional District. This election followed an intense campaign during which he walked 600 miles across the district "to find out what is on people's minds." Walking was to become Cohen's trademark; in most of his campaigns he walked through the towns and cities he represented, talking informally with his constituents.
Cohen was elected to the Senate in 1978, when he defeated incumbent William Hathaway. During his congressional career, Cohen was known as a moderate Republican who voted his own way. He sees himself as part of a tradition of independent-minded representatives from Maine, a group including William Pitt Fessenden, who cast a deciding vote against the impeachment of President Andrew Johnson in 1868, and Margaret Chase Smith, who became one of the first members of her party to condemn McCarthyism in her 1950 Declaration of Conscience. Cohen continued this tradition of independence, but also became known as a bridge-builder between Republicans and Democrats. On the occasion of Cohen's appointment as Secretary of Defense, President Clinton noted that Cohen is a man "with a creative, independent, inquiring mind" who "is just what is needed for this team."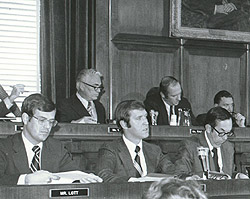 Judiciary committee, 1974
Cohen was appointed to a number of committees while in Congress, and two of these appointments propelled him into the center of major constitutional crises. In 1974, when Cohen was a freshman member of Congress and a member of the House Judiciary Committee, he became involved in the impeachment inquiry concerning President Nixon and his involvement with Watergate. Cohen was one of a small group of Republicans who were the first to break ranks with their party when they voted in favor of Nixon's impeachment.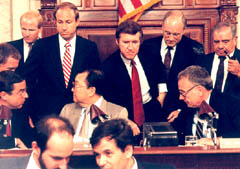 Iran-Contra committee, 1987
Cohen became involved in a second constitutional crisis in 1986, when he was appointed to the select Senate committee formed to investigate the sale of weapons to Iran and the funneling of these proceeds to the Contra resistance movement in Nicaragua. At that time he was a member of the Select Committee on Intelligence, which had been conducting its own closed-door hearings into the scandal. Cohen was one of only three Republicans to join Democrats in signing the majority report that held President Reagan responsible for the actions of those involved in the Iran-Contra affair.
---
After Watergate, Cohen became a leading Congressional advocate for more stringent ethics laws, and he has maintained an interest in government ethics throughout his career. He supported the 1978 Ethics in Government Act which included provisions for the creation of a statutory office of independent counsel. During his years in Congress, one of Senator Cohen's major focuses was overseeing the operation of the government and fighting for policy changes. His principal platforms for this have been the Senate Subcommittee on Oversight of Government Management, of which he was Chairman or ranking member from 1979-1997, and the Aging Committee, which he chaired from 1995-1997.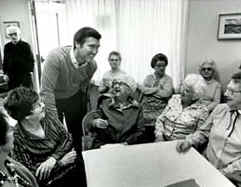 William Cohen speaking with senior citizens
Cohen served on the Committee on Aging from 1975 to1997, and his numerous legislative actions on behalf of seniors included:
the Nursing Home Patients Bill of Rights in 1975; ending mandatory retirement at age 65; and major legislation on long-term care insurance.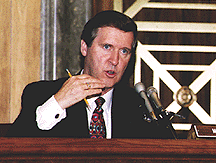 Cohen speaking in Committee
Through his service on the Governmental Affairs Committee as a member of the Subcommittee on Oversight of Government Management from 1979-1997, Cohen sought policy changes aimed at making the government more effective. His efforts resulted in: simplification of Federal purchasing practices; improvement of aviation; and safety tighter control on Medicare charges.
Cohen was also a member of the Senate Armed Services Committee and the Senate Select Committee on Intelligence, establishing a national reputation for thoughtful expertise on defense and intelligence issues. In 1983, he publicly introduced the idea of nuclear "build-down," a plan which would require the U.S. and the Soviet Union to eliminate one or more existing weapon for each new one deployed. Although this plan was defeated in committee, it became part of the overall U.S. arms control position. In Senate debate on the Persian Gulf crisis in 1990, Cohen was a strong and early voice insisting on executive compliance with the War Powers Act, urging President Bush to seek a vote from Congress on entry into the war.
---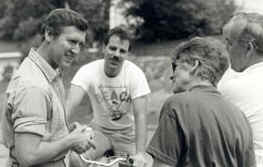 Cohen speaking with constituents.
During his twenty-four years in Congress, Cohen and his staff responded to more than 50,000 requests for assistance. In addition, he received and replied to nearly two million letters regarding issues before the Congress, and traveled back to Maine more than five hundred times to meet with constituents and appear at events. In response to the needs of the people of Maine Cohen played leading roles in: helping Maine businesses and industry compete in national and world markets; settling the Indian Land Claims controversy in the late 1970's; supporting Navy Projects for Maine Facilities such as Bath Iron Works and the Brunswick Naval Air Station; and assuring the survival of dairy farmers in New England.
---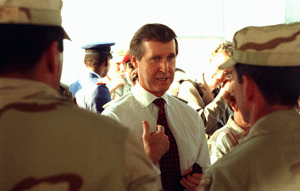 Secretary of Defense Cohen with U.S. Army soldiers in Qatar, October 10, 1998
William S. Cohen was sworn in as the nation's 20th Secretary of Defense on January 24, 1997. In an address before Congress on the eve of his confirmation, Cohen stressed the need for bipartisan cooperation on national security issues, and stated that his priorities as Secretary would be the maintenance of quality personnel, the ensurance of combat readiness, and the modernization of the nation's forces for the 21st century.
---
Writing has been Cohen's principal avocation for many years, and his published works include:
Of Sons and Seasons (1978), a volume of poems.

Roll Call (1981), a journal of Cohen's first year in the Senate.

Getting the Most Out of Washington (1982), a manual on cutting through government red tape.

The Double Man (1985), written with Senator Gary Hart, a novel on international espionage and terrorism.

A Baker's Nickel (1986), a second volume of poetry.

Men of Zeal (1988), written with Senator George Mitchell, an account of their experience investigating the Iran-Contra affair.

One-Eyed Kings (1991), a spy thriller involving Soviet and American covert actions that converge in the Middle East.

Murder in the Senate (1993), a mystery written with Thomas B. Allen.

Easy Prey: The Fleecing of America's Senior Citizens and How to Stop It (1995), a work of non-fiction concerning fraud and the elderly.