William S. Cohen Papers | About the Collection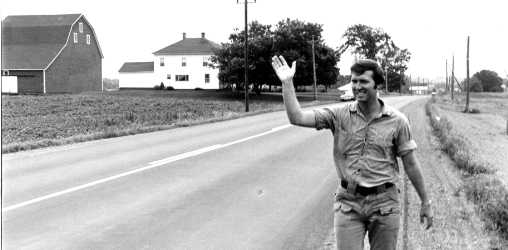 ---
William S. Cohen was a member of the U.S. House of Representatives from 1972-1979, and a member of the U.S. Senate from 1979-1997. Upon his retirement from the Senate, Cohen donated his personal papers to the University of Maine. These papers, created by Cohen and the members of his large staff, document Cohen's twenty-four years of service as a member of Congress, as well as his work as an author of fiction, poetry, and accounts of his own experiences during his Congressional career.
The collection arrived at the Raymond H. Fogler Library in December, 1996. Packed in record storage boxes and accompanied by a paper index created by archivist Jane Odom, the papers totaled approximately 1300 cubic feet.
Most of the records were from Cohen's congressional offices in Washington D.C., but approximately thirty boxes were from his state offices in Maine. The bulk of the collection consists of paper documents, but photographs, videocassette tapes, audiocassette tapes, and memorabilia are also included. Most of the personnel files, routine administrative records, and case files, which include correspondence with federal agencies on behalf of individual constituents, were removed from the collection before it was transferred to the University of Maine.
In 2001, after serving four years as Secretary of Defense, Cohen donated the reference files from his office at the Department of Defense in the Pentagon. These unclassified correspondence files, trip reports, photographs, and news clippings are primarily electronic files on 16 CD-ROM disks.
Organization and Arrangement
In 1998, archivist Frances O'Donnell appraised the collection and then devised an organizational scheme for it, based on standard archival principles and current theory and practice within the congressional archives field. The boxes were already organized according to general categories suggested by Senate archivist Karen Paul in the 1992 editions of The Documentation of Congress, and Records Management Handbook for U.S. Senators and Their Archival Repositories. These two books provided guidelines for the further processing of the collection.
The original order of the records was maintained as far as possible, in order to reflect the manner in which Cohen's Congressional offices functioned. The following six major record groups in the collection were identified: 1) private papers, 2) papers from the U.S. House of Representatives, 3) papers from the U.S. Senate, 4) audiovisual materials, 5) photographs and memorabilia, and 6) Department of Defense papers. The audiovisual materials and photographs and memorabilia encompass Cohen's career in both the House and the Senate.
Links from this outline of the William S. Cohen papers go to a description and list of folders in each section. In addition, contents can be searched using the search box below.
i. Cohen Papers Biographical and Historical Notes
ii. Scope, Content, and Arrangement of the Papers
iii. Restriction Information and Preferred Citation


1. Private Papers
1.1 Personal and Professional Records
1.2 Book Material

2. House of Representatives Records, 1973 - 1978
2.1 Personal / Political / Official Records
2.1.1 General Files
2.1.2 Campaign Records
2.1.2.1 General
2.1.2.2 Biography clippings
2.1.2.3 Complaint for Fair Campaign and Correspondence
2.1.2.4 Debates, Financial Info.
2.1.2.5 Interest Group Mailings
2.1.2.6 Maine News Clippings
2.1.2.7 Polling Material - Position Papers
2.1.2.8 Research Reports and Studies
2.1.3 Personal Correspondence
2.1.4 Accepted Invitations
2.1.5 Membership Files
2.2 Constituent Service Records
2.3 Legislative Records
2.3.1 General Records
2.3.1.1 General Files
2.3.1.2 Bill Digests
2.3.1.3 Maine Affairs
2.3.1.4 Voting Record
2.3.2 Legislative Correspondence
2.3.3 Judiciary Committee
2.3.3.1 General Files
2.3.3.2 Gerald R. Ford Vice Presidential Confirmation Records
2.3.3.3 Richard M. Nixon Impeachment Inquiry Records
2.3.3.4 Nelson A. Rockefeller Vice Presidential Confirmation Records
2.3.3.5 News Source and Information Protection Act (Newsman's Privilege)
2.3.3.6 Speedy Trial
2.3.3.7 Women's Issues
2.4 Press / Media Relations Activity Records
2.4.1 News Clippings
2.4.2 Press Releases
2.4.3 Speech Files
2.4.4 Thomas Bright papers
2.5 Office Administration Records
2.5.1 General Administrative Records
2.5.2 General Correspondence

3. Senate Records, 1979 - 1996
3.1 Personal / Political / Official Records
3.1.1 General Files
3.1.2 Campaign Records
3.1.3 Personal Correspondence
3.1.4 Accepted Invitations
3.1.5 Schedules
3.1.6 Travel Records
3.1.7 Roosevelt Campobello International Park Commission
3.2 Constituent Service Records
3.2.1 State Office Records
3.2.1.1 Bangor Office
3.2.1.2 Biddeford Office
3.2.1.3 Lewiston Office
3.2.1.4 Presque Isle Office
3.2.2 Correspondence, Content Management System managed
3.2.3 Correspondence, Issues, Messages and Requests
3.3 Legislative Records
3.3.1 General Records
3.3.1.1 General Files
3.3.1.2 Legislative Activities
3.3.1.3 Legislative Agendas, Goals, and Accomplishments
3.3.1.4 Senate Record Vote Analysis
3.3.2 Aging, Health, & Social Services
3.3.3 Agriculture
3.3.4 Commerce & Transportation
3.3.4.1 General Records
3.3.4.2 Aviation
3.3.4.3 Communications
3.3.4.4 Fisheries
3.3.4.4.1 Hastings & Woodcock fisheries records 1974-1981
3.3.4.4.2 Kaelin records 1981-1984
3.3.4.4.3 DeCoster records 1983-1991
3.3.4.4.4 Adams and Veroneau records 1987-1996
3.3.4.5 Highways
3.3.4.6 Maritime Records
3.3.4.7 Railroads
3.3.5 Defense
3.3.5.1 Bodner and Mellon records, terrorism and defense reorganization
3.3.5.2 James Dykstra records, defense, foreign affairs and intelligence
3.3.5.3 Foreign Relations
3.3.5.4 Dale Gerry, defense reorganization and strategic forces
3.3.5.5 Intelligence
3.3.5.6 Loring Air Force Base
3.3.5.7 Veterans
3.3.6 Education
3.3.7 Energy
3.3.8 Environment
3.3.8.1 General Records
3.3.8.2 Air Pollution
3.3.8.3 Animal Welfare and Wildlife
3.3.8.4 Land and Resource Management
3.3.8.5 Ocean and Coastal Resources
3.3.8.6 Waste Management and Clean-up
3.3.8.7 Water Pollution
3.3.9 Foreign Affairs
3.3.10 Fiscal Affairs
3.3.11 Government
3.3.12 Housing
3.3.13 Indian Affairs
3.3.14 Iran-contra Committee
3.3.15 Judiciary Committee
3.3.16 Labor
3.3.17 Project Files
3.3.18 Trade
3.4 Press / Media Activity Records
3.4.1 Administrative Files
3.4.2 Columns, Releases, Radio
3.4.3 Issue Files
3.4.4 Mailings
3.4.5 News Clippings
3.4.6 Speech Files
3.4.7 Thomas Bright Files
3.4.8 Website
3.5 Office Administration Records

4. Audiovisual Material

5. Photographs and Memorabilia

6. Department of Defense Records, 1997 - 2001
6.1 Official Correspondence
6.2 Trips
6.3 Public Statements
6.4 Conferences / Hearings / Special Events
6.5 Photographs