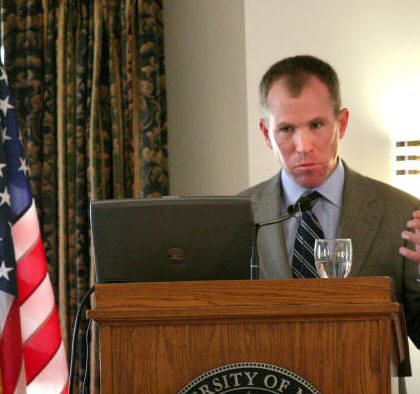 Photo by Don Radovich




Back to main Energy Forum page
Dave Wilby, Independent Energy Producers of Maine

Maine Perspective Panel
Slide presentation in PDF (76 KB)
Transcript in PDF

Dave Wilby is Executive Director of the Independent Energy Producers of Maine. IEPM's power producer members generate electricity in a sustainable manner from hydro, biomass, wind, waste-to-energy, and soon, landfill gas. Located in Augusta, the organization represents the renewable power industry before the Maine Legislature, the Public Utilities Commission, the Federal Energy Regulatory Commission, and at various other state, regional, and national forums.

Previously, Mr. Wilby served for five years as a legislative assistant to former Senator William S. Cohen, and was then a senior policy advisor to former Maine Governor Angus S. King, Jr. For Senator Cohen, he was responsible for environment, energy, transportation, Congressional reform, and other issues. Mr. Wilby was Cohen's point person on issues such as national energy policy, forestry, solid waste, endangered species, and land conservation. For Governor King, he was a senior staff member involved in legislative relations, appointments, budget, management, and policy development. Mr. Wilby also worked on energy issues as a consultant at Portland-based Firth Associates. He has a degree in government and history from Bowdoin College.