William S. Cohen Papers | Transparency Forum, Welcome and Introductions
Transcript of the Welcome & Introductions portion of the program: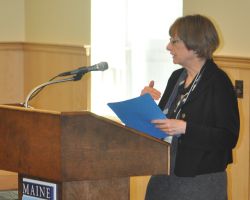 Greetings, I am Joyce Rumery, Dean of University Libraries at the University of Maine. Welcome to the fourth William S. Cohen Papers Forum, The Promise and Problems of Transparency. As with the previous forums this topic came from Secretary Cohen's papers and today we will have an opportunity to explore what is meant by the word "transparency," and what it means for the balance between openness and privacy.
Within the world of libraries, Nancy Dowd, of the New Jersey State Library, defined the term by saying, "transparency is all about organizations listening, responding, and sharing the process. It's about letting strangers have an impact on how things are done." We see unprecedented levels of collaboration and interactivity in library catalogs, databases, and through social networking sites. This day will be a chance for us to see how these changes are being taken up in other fields as well…
[Recognition of sponsors, staff members, and explanation of logistics of the day omitted here.]
Now it is my pleasure to introduce my colleague, Michael M. Hastings. A native of Morrill, Mike Hastings graduated from Bowdoin College (ME) in 1972. Following a year of graduate study at George Washington University (DC), he worked for twelve years as a legislative assistant (foreign relations, national security and maritime affairs) to Bill Cohen (1973-1980) and George Mitchell (1980-1984). In 1984, Mike and his family moved to Africa where he was a relief and development administrator for CRS, the overseas development and relief agency of the U.S. Catholic Bishops. In 1992, he returned to Maine to direct the Maine Aquaculture Innovation Center, a non-profit "center for excellence" that promotes research leading to economic development.
In 2004, he was hired by the University of Maine to be Director of the Office of Research and Sponsored Programs. Staff members in his unit assist UMaine faculty and professional staff apply to government and foundations for research support. When awards are received, staff works with faculty to insure that supported activities are conducted in a responsible, efficient, ethical, and professional manner. Mike also serves as an advisor to the University's School of Policy & International Affairs. Please join me in welcoming Mike.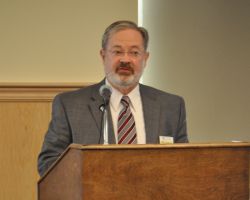 Thank you. I'm Mike Hastings, Director of Sponsored Programs here at the University of Maine. I'm delighted to join with the others in welcoming you to this Cohen Papers Forum on the promise and problem of transparency in government.
I was asked by Desiree Butterfield-Nagy, Archivist of the Cohen Papers, to make the introduction of our keynote speaker because she knows that I am interested in ways to improve the quality of public debate on national policy issues.
This interest dates back to the 93rd Congress, when I had the privilege of working for Bill Cohen, then a 34-year-old, newly-elected, freshman member of the US House of Representatives.
In the 93rd Congress, both the House and the Senate were controlled by the Democratic Party. Consequently, it was difficult for a freshman member of the minority party to accomplish much. It was next to impossible for a freshman Republican to introduce legislation of national importance, and to have that legislation seriously considered by a standing committee. In 1973, Bill Cohen did the impossible.
The year before, the Supreme Court of the United States decided a case, Branzburg v. Hayes. In its decision, the Court held that the first amendment did not give journalists a constitutional right to withhold from grand juries two things: 1) confidential sources, and 2) news information received from those sources.
In response to the Court's decision, Bill Cohen recommended that Congress pass a law giving journalists the "privilege" of keeping their sources confidential under certain defined circumstances.
He called his shield proposal the "Newsman's Privilege Act." He immersed himself in the legal and public policy issues that were involved, and he persuaded a large number of his colleagues to cosponsor his proposal.
Cohen then approached, and convinced, Representative Robert Kastenmeier of Wisconsin, the Chair of a House Judiciary Subcommittee, to hold a series of in-depth hearings on a collection of over 50 shield proposals, cosponsored by 143 House members. Those hearings occurred in the spring of 1973.
On June 14, 1973 Kastenmeier's Subcommittee voted to "report out" to the full committee, Cohen's bill, which established a two-tiered statutory "privilege" for newsmen, designed to guaranty freedom of the American press. Then began a five-year public policy debate over whether Newsmen's Privilege would be good or bad for the country.
Throughout these five years, Bill Cohen assembled coalitions of like-minded Congress people, from both parties, who believed that democracy works best when the people are informed. That debate that occurred then was not unlike the debate now taking place over President Obama's "Open Government Initiative."
Though other concerns --the resignation of Vice President Agnew, the impeachment of Richard Nixon and America's exit from Vietnam-- ultimately prevented the Cohen proposal from reaching the house floor for a vote, it was clear to everyone in the House during the 93rd, 94th and 95th Congresses, that Bill Cohen had both the intellect and the drive to achieve significant legislative accomplishments.
It is fitting that this Cohen Papers Forum focuses our attention today on how information gathered and generated by government should be shared with the governed.
The Cohen Archives and the Cohen Center here at the University have successfully identified an expert on the subjects of Transparency and Open Government. He is Professor Cary Coglianese, the Deputy Dean of Academic Affairs at the University of Pennsylvania Law School, and the author of over one hundred peer-reviewed papers on a wide range of subjects including: administrative law, policy-making, corporate governance and electronic government.
Last year, Dr. Coglianese wrote last year in the journal GOVERNANCE the following:
"Good, open government is not the same as a reality television show that broadcasts every move officials make and every conversation they have. On the contrary, good government actually requires certain limits on this kind of fishbowl transparency. Moreover, recognition of such limits holds implications for the political strategy of open government reform, Reformers who trumpet transparency at nearly every turn, or who suggest that transparency can cure all that ails public policy, raise public expectations of a much too extreme openness. As meeting such high expectations is neither realistic nor wise, raising these expectations poses political risks."
If you wish to hear more, please join me in welcoming our keynote speaker, Dr. Cary Coglianese.
[end of transcript.]
Return to the main Transparency Forum page
---
Contact the Cohen Papers: 207.581.2665 |
spc@umit.maine.edu
| Revised: 01/23/2014