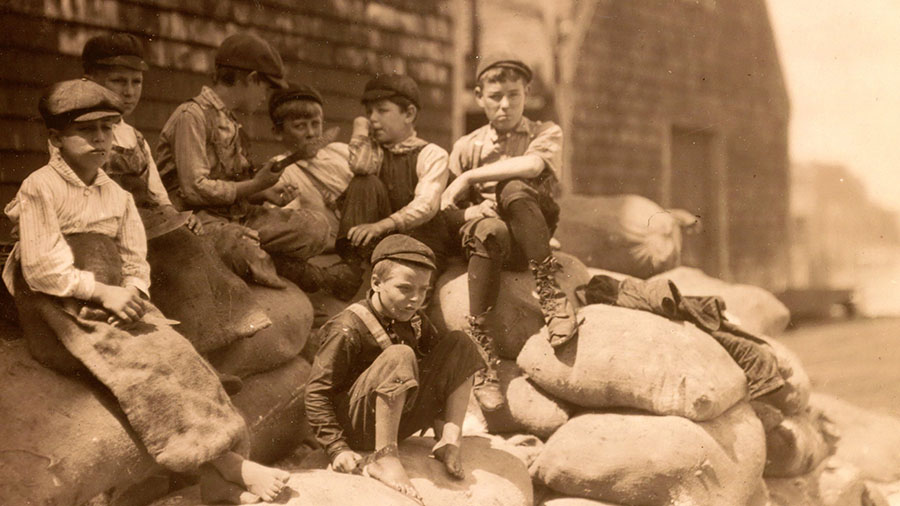 The Labor of History
Labor archives help researchers tell the story of Maine's workers
In a box of aged photographs and letters, Dr. Charles Scontras sees more than what's readily apparent. An average viewer might take in people walking in parade-format or the way a few worn edges hint at a document's age. Scontras sees people lobbying for safer working conditions, better hours. He sees a time, not long ago, when children worked in factories and when employees couldn't trust the air they breathed.
Most of all, he sees people. Scontras, a historian and retired University of Maine professor, has authored numerous books and papers on Maine's labor history. For him, the line of history is always tethered to actual people who lived real lives and struggled to overcome the obstacles of their time.
"The labor archives at Fogler Library are the muted voices of Maine workers," says Scontras. "They serve to light up the shadows of the state's history and the evolution of its institutions."
For decades, Scontras has worked extensively to make history more useful to the public. His efforts to detail the history of workers and labor relations in Maine have helped fill a void in Maine's historical research. Along with other researchers, Scontras has given context to an area of Maine's past that had been largely overlooked.
"In recent decades," says Scontras, "the research and writing of labor history is evolving into a more complete understanding of the forces, events and personalities that have shaped Maine's labor movement and its impact on the lives of Maine workers."
In the effort to tell the story of Maine's workers, Scontras is quick to credit the contributions of other individuals and organizations, including the Bureau of Labor Education at the University of Maine, where Scontras works as a research associate. Established in 1966, the Bureau is charged with giving Maine workers and their unions resources for understanding their past and confronting present-day labor challenges.
"Our goal is to connect workers with their history and their documents," says Marc Cryer, Director of the Bureau of Labor Education. "We're also here to help preserve those documents and materials so people can have access to them."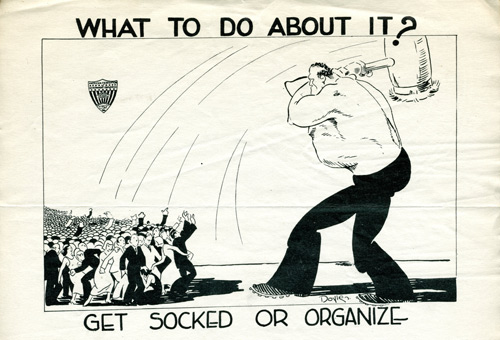 Providing this history and education is a complicated task. Unions may be formed and disbanded. Leadership changes and workers retire. From one industry to another, methods for capturing and cataloging information can vary dramatically, causing gaps in the subject matter or time period of records.
In educating today's workers, explains Cryer, context is invaluable, and he credits Scontras for creating, through his body of work, an index of the labor archival materials held by the Special Collections Department at Fogler Library.
"[Scontras'] books provide a narrative account of Maine's labor history," says Cryer. "The books act as a guide to the archival materials [at UMaine] and in other locations that historians can take advantage of for further research."
Scontras has worked diligently to convince organizations and individuals to donate documents to Fogler Library, says Cryer. By coming to Fogler, the documents can be preserved as part of a still-growing collection of Maine labor resources. In discussing his research, Scontras acknowledges that his efforts wouldn't have been possible without the vast collection of materials available to him.
"The archives are the bricks and mortar of history," says Scontras. "They build the world you're in. The research never would have happened without this rich vein of resources.
"Fogler Library has been instrumental in identifying, collecting and preserving archival materials relating to the important mission of preserving the history of the countless, anonymous workers who helped to build the wealth of the state."
The labor-related materials held by Fogler Library span centuries and cover nearly every industry imaginable. In a box of records from the Portland Central Labor Union, the "Constitution of the Retail Clerks" is held alongside the emblem of Sheet Metal Workers International. In other collections, pamphlets, drawings and fliers promote workers' rights and political initiatives. Some items are more routine—a memo about office supplies, a letter about union business, an advertisement selling custom union pins and buttons.
Still, the materials spread across the different labor collections paint a picture of Maine's citizens and the industries or professions that sustained them. These archives have been the raw materials for research completed by historians like Scontras. In many cases, the documents are the only remaining evidence of the day-to-day struggles of Maine's citizens and, in turn, help shed light on the history of local communities, organizations and people.
"Fogler Library's acquisition of archival labor materials has provided labor historians with the jewels of their work," says Scontras.
According to Scontras, the archives held at Fogler Library likely offer one of the most detailed collections of labor materials in any individual state.
As a historian, Scontras' work and research has focused firmly on the past, but he's most concerned with how the labor archives and the work of historians can continue to support future generations. He sees this challenge as twofold. The first problem comes back to the "bricks and mortar" of history. Without concentrated effort by researchers, libraries and members of the public, potentially valuable documents from Maine's labor history could be lost.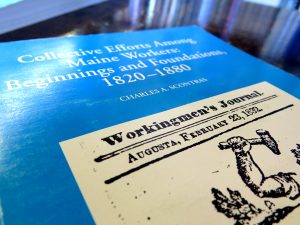 For that reason, Fogler Library Special Collections and the Bureau of Labor Education have made efforts to collect labor-related materials from unions, organizations, libraries and individuals.
"It's frightening to think about how much exists that we haven't found or don't know about," says Scontras. "[Fogler Library] continues to rescue troves of labor-related materials buried in the 'attics' of history and is quickly earning its rightful place among libraries recognized for their labor archives."
The second challenge is about public service. Along with the Bureau of Labor Education, Scontras imagines a not-too-distant future when the history contained in the archives and published in book form will eventually be translated into pamphlets and study guides for educators, labor union officials, rank and file workers, public policy makers and the general citizen.
"History is of no use unless you make it of use," says Scontras. "What historians write about is important, but equally important is what they do not write about, for what they do not write about simply doesn't exist."
Scontras has endeavored to fill in a major vacuum in the history of Maine by bringing into sharp relief the history of the struggle of its workers.
To learn more about the archives, contact Fogler Library Special Collections or the University of Maine Bureau of Labor Education.
—
This story was originally featured in the 2017 Raymond H. Fogler Library Magazine.