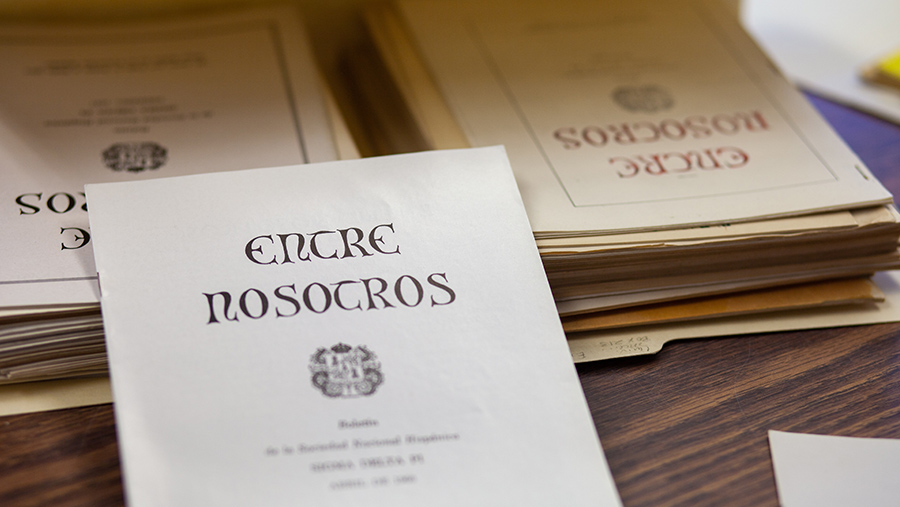 The Missing Volumes
Professor locates missing National Collegiate Hispanic Honor Society journals at Fogler Library
When Dr. Mark Del Mastro was drafting a book on the 100-year history of Sigma Delta Pi, the National Collegiate Hispanic Honor Society, one of his primary sources was the journal of the honor society, Entre Nosotros.
During his research, Dr. Del Mastro, the Associate Provost for Curriculum and Academic Administration at the College of Charleston in South Carolina, encountered a problem. He hadn't been able to locate several years of past issues of Entre Nosotros. Without those issues, significant portions of Sigma Delta Pi's history could go unwritten.
"After weeks of searching, I was near a dead-end," says Dr. Del Mastro. "I had already managed to collect a few missing issues of Entre Nosotros from Duke University and Kent State University, but I was at a loss for the years 1946-1968 and 1970 and 1971."
Shortly thereafter, Dr. Del Mastro located the missing issues of Entre Nosotros in an unlikely location 1,200 miles to the north—in Special Collections at Raymond H. Fogler Library.
"Several former faculty members of Spanish at the University of Maine had served as Editors of Entre Nosotros from 1969-1976," explains Dr. Del Mastro. "I thought there might be a chance that [UMaine] would have the missing volumes I needed to complete my research. I inquired via Fogler Library's online system on December 30, 2018, and within 24 hours, on New Year's Eve Day, [Special Collections staff] responded to confirm that Fogler Library did have on hand virtually all the missing volumes in question."
Dr. Del Mastro then worked with two archivists in Special Collections, Desiree Butterfield-Nagy and Matthew Revitt, on a course of action for Fogler Library to loan the issues to Dr. Del Mastro.
"By the first week of February, the issues in question were in my hands here at the College of Charleston. Absolutely remarkable service and a huge credit to Fogler's attentive staff."
Sigma Delta Pi was founded in November 1919. Its national headquarters are located at the College of Charleston, where Dr. Del Mastro is a faculty member in addition to serving as the Executive Director of Sigma Delta Pi.
Dr. Del Mastro says the book, which is expected to be published in 2020, will provide the most complete and accurate record of Sigma Delta Pi's history. The missing volumes of Entre Nosotros have played a critical role in the development of his book.
"These materials have been invaluable for my book project because their contents have filled many gaps in the history of our organization and have also revealed details that simply have been forgotten with the frequent transitions of national leadership. Without this generous loan by the University of Maine, this history project would be incomplete."
—
This story was originally featured in the 2019 Raymond H. Fogler Library Magazine.