---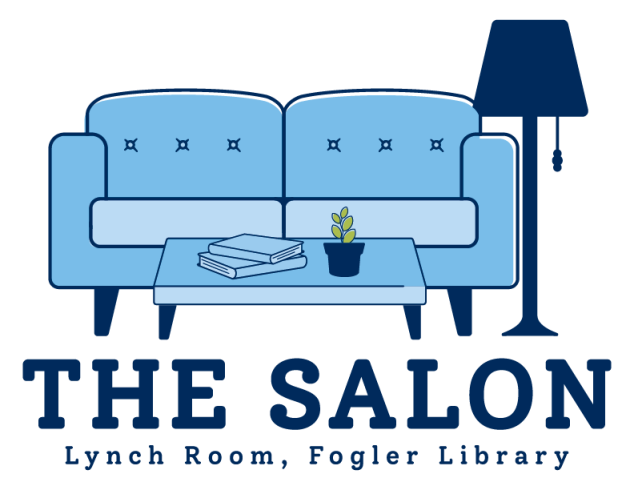 The Salon is a re-envisioning of the Lynch Room as a place for our community to congregate, discuss, and collaborate on ideas. We hope that the newly minted multidisciplinary Salon Series, with rich topical themes, will foster the kind of conversations and action that will be remembered for a lifetime. Please join our (hybrid) Salon Series for interesting conversation and refreshments. 
The Salon Series was made possible by generous donor contributions and Honors College co-sponsorship.
Parking

Daytime events: Public mobile pay stations are available in the Smith Parking Lot for daytime events. You can also request a parking pass good for any black lot and designated visitor space from um.parkingservices@maine.edu or by stopping by the Parking Office: https://umaine.edu/parking/contact-us/.

After 4:00pm events: All blue and black lots are open for public use and do not require a parking pass. If you are parking earlier than 4:00pm please request a parking pass from um.parkingservices@maine.edu or by stopping by the Parking Office. For more information see the Parking website at: www.umaine.edu/parking
Back to the Future: The Post-ChatGPT Classroom
Monday, September 18, 2023 12:00-1:30pm 
Zoom link (This event will not be recorded)
Almost half of college students admitted to using generative AI after its tumultuous arrival last year, and its capabilities and ethical pitfalls will only multiply in the coming year. Fortunately intrepid academics have spent the summer investigating its responsible use in education. This salon will review these emerging recommendations as well as tools for integrating AI into the classroom. Jon Ippolito and Dr. Peter Schilling encourage UMaine instructors and students who have experimented with generative AI to report on their experiences, in the hopes of expanding the knowledge necessary to navigate an educational landscape that continues to be disrupted by AI.
Planning the Next-Generation University: Parachuting Off the Enrollment Cliff 
Tuesday, September 12, 2023 12:00-2:00pm
Zoom link (This event will not be recorded)
Universities need a new game. Incremental change that doesn't question trappings like credit hours, semesters, and rigid 4-year majors won't fix the looming demographic dropoff. Nor will it avert broader threats to universities from online bootcamps and tutorials, generative AI's power to fabricate content, and a nagging sense that many degrees are increasingly irrelevant in the face of imminent social and ecological perils. Serving students in spite of these concerns may require new delivery modes such as microcredentials and fractional degrees; alternative recognition of academic success beyond peer-review journals; and an unprecedented focus on timely issues and local impact. Dr. Richard Corey, Dean Giovanna Guidoboni, Jon Ippolito, and Dr. Peter Schilling invite university administrators, staff, faculty, and students to this salon to plan the next-generation university.
Protecting Acadia National Park Through Public-Private Partnerships
Monday, October 2, 2023 6:00-8:00pm
In person attendees please RSVP here.
Zoom link (This event will be recorded)
Cash Bar will be available.
Join as University of Maine Professor of Forest Recreation Management John Daigle conducts an armchair conversation about the operational, philosophical and political realities of running Acadia National Park, Maine's most visited natural destination. Acadia faces challenges ranging from climate change to increasing diversity of its visitors to managing congestion and crowding. Acadia Superintendent Kevin Schneider will speak to the National Park Service mission of providing for visitor enjoyment, education, and inspiration while meeting the legal imperative to leave the parks unimpaired for future generations. Retired President and CEO of Friends of Acadia Ken Olson will lay out the part nonprofits perform in providing philanthropic services that help parks achieve a margin of excellence beyond what government can accomplish alone. All are welcome.
Censorship
Tuesday, October 3, 2023 6:00-8:00pm
Zoom link (This event will not be recorded)
Join Maine Association of School Libraries VP Beth Andersen, Maine Library Association President Sonya Durney, Maine State Librarian Lori Fisher, and Bangor Public Library Director Ben Treat for a salon bringing together various perspectives on censorship. Library professionals will discuss the history and legal aspects of book banning, national trends and legislation leading up to Banned Books Week, as well as the experiences of different institutions such as academic, public, school, and state libraries in Maine. Be ready to engage! The salon aims to provide a platform for personal experiences with censorship and encourage attendees to share their thoughts on the way forward. All are welcome.
From Surviving to Thriving: Ensuring that we Serve the Whole International Student
Monday, April 1, 2024 6:00-8:00pm
Zoom link (This event will be recorded)
The global events of recent years — an ongoing pandemic, ruptured education systems, growing nationalism worldwide, and a renewed social justice movement — have called for a sea-change and re-imagining of academia's mission and work with international students, as well as the central role they play in building global bridges and fostering global engagement. Please join Orlina Boteva, Director of the Office of International Programs, and Dr. Karen Pelletreau, CITL Director of Faculty Educational Development, in a conversation with Dr. Rajika Bhandari, author of the award-winning memoir, America Calling: A Foreign Student in a Country of Possibility, a spring 2024 CITL book club title. Dr. Bhandari will share her extensive experience as an international higher education expert and her personal and professional insights on attracting international students; serving and aligning their needs with campus diversity and inclusion efforts; and positioning them for success.